4 Tips for Increasing Peer-to-Peer Fundraising Participation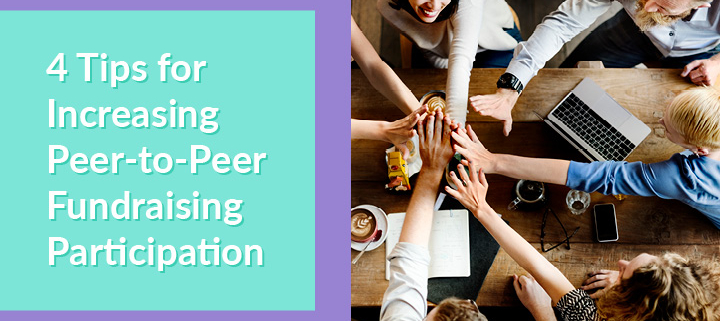 Peer-to-peer fundraising can sometimes seem like a daunting venture. With this strategy, your success or your failure rests in your supporters' hands. You're relying on your supporters to champion and fundraise for your cause as proxies for your organization. 
When you have invested supporters, peer-to-peer fundraising allows you to expand your reach and engage new, potential donors in their individual networks. Because these donation requests are being made by a trusted friend or colleague, these potential donors are also more likely to donate to your cause.
However, without supporters' dedicated participation, this type of campaign is likely to fall flat. So, how can you encourage participation from both existing and potential supporters? 
Whether this is your first peer-to-peer campaign or your fiftieth, follow these four tips to set your fundraising campaign up for the best possible engagement:
Set SMART goals.

Leverage regular, multichannel communication.

Choose powerful peer-to-peer fundraising software.

Show your appreciation.
Even though your supporters are in the driver's seat, you can't sit back and relax as the donations roll in, especially in the planning and preparation stages. The more work you put in upfront, from recruiting a stellar fundraising team to sending letters requesting donations, the more likely your supporters (and thus your campaign) will be successful.
Set SMART goals.
So where should you start? Before you launch your peer-to-peer fundraising campaign and reach out to supporters, you'll want to be clear about what you and your supporters will be working toward with your campaign. 
Campaign Goals
In conversations with your financial and development departments, you'll establish your organization's overall campaign fundraising goal. Consider: How much revenue do you intend to raise? What will be the impact of that money? Where and how will it be used? 
We recommend that the goals you set follow an established framework such as the SMART model:
Specific.

Your goals should be narrowly-focused and identify specific, tangible resources, outcomes, and impacts for both your organization and community.

Measurable.

Your goals should have a quantifiable definition of success and clear, accessible metrics

Attainable.

Your goals should be achievable within reason. Sometimes organizations will have two goals: a "baseline" goal and a "reach" goal.

Relevant.

Your goals should be meaningful to your organization, your donors, and the community you serve. 

Time-based.

Your goals should have a defined target date as well as checkpoints along the way.
Determining the timeline and deadline for your campaign is a crucial but oft-forgotten part of the goal-setting process. If your campaign is associated with a specific event (such as a fun run or gala), you'll likely align your deadline with that date. If you have more flexibility in your timeline, consider what time of year your supporters are most likely to be able to fundraise and donate. 
For example, if a large portion of your proxy fundraisers are teachers, you might plan the campaign for the summer—when they'll be off from school and more available. Or since 30% of all annual giving occurs during the month of December, you might choose to host your campaign accordingly.
Individual Goals
While your organization will have an overall fundraising goal, you should also give your supporters the ability to set individual fundraising goals. Depending on the functionality of your fundraising platform, you can suggest achievable individual fundraising goals (plus their associated impact) and allow supporters to then make adjustments to their goal. 
For example, if your organization has an overall goal of $20,000, a supporter with a large network and free time might set a goal of $1,000, while a supporter with a busy schedule might set a goal for $100. Taken together, these smaller goals add up—and give individual supporters a sense of responsibility for meeting their commitment. 
Leverage regular, multichannel communication.
When you clearly articulate deadlines, impacts, and goals, you put your supporters in a strong position to set forth on their individual fundraising efforts. They'll feel their involvement is making a positive, tangible impact and will communicate that to their network.
Thus, it's imperative to keep your supporters apprised of how well the campaign is going, how close you are to reaching the overall goal, how they can get involved, and particular highlights and successes. But unfortunately, you can't reach everyone on the same platform or with the same approach. Some people, for example, don't use social media. They would miss your clever posts on Twitter or Instagram completely. 
In order to reach as many supporters as possible, plan to share these updates across a variety of channels, including:
Email.

According to Donately

, 28% of all online nonprofit revenue is generated via email outreach. People are constantly checking their emails, so this is one of the easiest ways to get your campaign in front of your supporters. Since emails can be easily forwarded and shared, write them with both your supporters and potential supporters in mind.

Social Media.

Love it or hate it, social media is now an all but necessary fundraising tool to reach potential supporters beyond your immediate network. Focus on the platforms (such as Facebook, Instagram, TikTok, and Twitter) your followers use most. 

Google Ads.

While for-profit corporations pay large sums of money to advertise on Google search results pages, your position as a nonprofit makes you eligible for

free advertising on Google with their Ad Grants program

. With up to $10,000 worth of ad placements a month at your disposal, you can connect with a broader audience and engage them to join your peer-to-peer fundraising campaign. 
Whatever channels you choose, you can use storytelling to effectively engage your audience. According to Getting Attention's Guide to Nonprofit Storytelling, while 63% of people will remember a story, only 5% will recall a statistic. Using personal narratives, first pose a problem that your nonprofit is working to solve. Then, give followers a way (peer-to-peer fundraising!) to take an active role in shaping the story.
Choose powerful peer-to-peer fundraising software.
You can do everything in your peer-to-peer fundraising outreach right, but your fundraising software will ultimately make the difference in whether that work pays off. The best fundraising platforms are easy to use, offer robust sharing, data tracking, and integration capabilities, and are fully customizable. When choosing your software, consider its: 
Usability.

Usability is just as important to your proxy fundraisers as it is to their donors. Participants don't want to struggle to set up their personal campaign page—which can be an immediate deterrent to their participation—and share text and visual updates on their progress. Moreover, many of their donors will abandon the donation process at the first hint of a roadblock. Your platform should make it as easy as possible for visitors to donate without having to jump through multiple hoops.

Sharing capabilities.

With so many people on social media, your platform's sharing capabilities are crucial to the success of your peer-to-peer fundraising campaign. Consider how easy it will be for participants and donors to share using your peer-to-peer solution. What social platforms will it connect to? Will sharing be burdensome or ignored, or actively encouraged with noticeable buttons and prompts? 

Data tracking capabilities. The right peer-to-peer fundraising software will support easy and organized data tracking and analysis. You should be able to track your most successful fundraisers, popular donation amounts, and giving trends at the click of a button. Use this information throughout your campaign to adapt to new trends and the needs of your fundraising participants and their networks. Some software can even help you fill in missing data, like employer information, at the click of a button.
Integrations.

Nothing's worse than having to retype hundreds of email addresses from one platform to another. For the sake of efficiency, your fundraising software should be able to connect widely to other software, such as MailChimp, Double the Donation, and WordPress. Integrations can also have significant implications for donor participation. For example, when

84% of potential donors say they're more likely to donate if a match is offered

, integration with corporate donation matching software can dramatically increase both your number of donors and donation amount. 

Customization.

While customization is certainly important to your peer-to-peer fundraising participants, it's also important to how your organization presents itself to the public. For a consistent brand experience, you should be able to set your organization's colors and logos across all pages.
Don't let your fundraising software hold back your peer-to-peer fundraising campaign. As you choose your software, consider these factors alongside the needs and budget of your organization. 
Show your appreciation.
Don't save your appreciation till after your peer-to-peer fundraiser is over. Instead, make it a practice to show your appreciation to your supporters at regular intervals. 
Unsure about the best way to say thank you? Ask your supporters how they'd like to be appreciated! Popular thank-you ideas include:
Public recognition.

Throughout your campaign, highlight your peer-to-peer fundraising participants with shoutouts and profiles in your email newsletter and on your social media accounts. Like any positive reinforcement, sharing positive recognition will deepen your participants' connection with your organization, incentivize participation, and drive traffic to their individual fundraising pages.

Exclusive events.

In addition to hosting a celebratory event at the end of your campaign, consider also hosting informal events

during

the campaign. Use these events to show your thanks and give peer-to-peer fundraising participants opportunities to connect with one another. If your participants are spread across the country—or the world!—use

virtual event software

to strategically host a hybrid or virtual event.

Personalized thank-yous.

Once the campaign

is

over, don't forget to

send participants thank-you letters

or emails. You can use your CRM to automatically personalize these with their names, their titles and pronouns, and the amount they fundraised in the campaign.
In addition to thanking your proxy fundraisers, you can also take steps to thank those who contributed to each individual's campaign page. While they may not yet be invested in your cause, you can leverage your shared connection to convert them into loyal supporters.
---
As you plan your peer-to-peer fundraising campaign, don't forget to ask for help. Especially with this type of fundraising, your supporters will be your best resource. So ask for their input! Reach out to trusted donors, volunteers, staff, and board members. If you've run a peer-to-peer fundraising campaign before, you can ask past participants for feedback on those campaigns—where they were successful and where they could be improved. 
Not only will you gain valuable insights, but your supporters will also feel that their voices are being heard. With this in mind, go for it! We're excited to see your campaign in action.
https://www.fundraisingletters.org/wp-content/uploads/Donately_Fundraising-Letters_4-Tips-for-Increasing-Peer-to-Peer-Fundraising-Participation_Feature.jpg
375
720
Fundraising Letters
https://www.fundraisingletters.org/wp-content/uploads/Fundraising-Letters-by-NXUnite-eCardWidget-logo_New-Crop.svg
Fundraising Letters
2022-03-15 12:41:10
2023-03-16 20:10:52
4 Tips for Increasing Peer-to-Peer Fundraising Participation