How to Promote Matching Gifts (and Other Best Practices!)

As a nonprofit organization, everything comes down to your fundraising efforts—whether you'll be able to meet your program goals, put on a large event, pay for overhead costs, and most importantly, serve your mission.
Sometimes it can be hard to admit this, but fundraising revenue alone isn't always enough. So what if you could double some of these existing dollars without asking donors to contribute more than they already have?
The answer is simple: matching gifts.
In this article, we'll be talking specifically about corporate matching gifts, which allow donors to maximize their donations by reaching out to their employers for a company match. If you're looking for ways to tap into this form of corporate philanthropy, you're in the right place!
Let's begin with the basics of matching gift programs, and then we'll show you how to promote matching gifts to your donor base. Ready to get started? Let's dive in.

1. Matching Gift Basics
The concept of matching gifts is pretty simple: donors give to an organization, submit a match request to their employer, and the employer sends the organization a matching donation.
It seems like everyone should be doing this, right? But there's a problem: many donors don't realize their company offers a matching gift program, and even if they do, they aren't sure how to submit a match request.
Clearing up the haziness surrounding corporate matching gift programs is the first step you need to take as a nonprofit so you and your donors can fully take advantage of them. That starts with understanding the rules of these programs.
Rules for Corporate Matching Gifts
In general, corporate matching gift programs have thresholds that need to be met before the company will issue a matching donation. It's important to know what these thresholds are so you can make the matching gift process run a lot smoother.

Here are the basic thresholds you should be aware of:
Minimum and maximum match amounts. Typically, companies have a minimum and maximum donation amount they'll match. The minimum amount is usually around $25, while the maximum can be in the thousands.
Match ratio.

Most companies match dollar for dollar (a 1:1 ratio), while some companies match at an even higher ratio. In general, ratios can range from .5:1 all the way to 4:1.

Employee eligibility.

Another guideline to be aware of is whether a donor's employment status is eligible for a company match. Companies typically specify whether full-time employees, part-time employees, or retirees are eligible. In some cases, this can even expand to spouses or domestic partners of those employees.

Nonprofit eligibility.

This is a big one. Is

your

nonprofit eligible to receive a matching donation from the donor's company? Most companies have a set list of organization types that they'll donate to, which can include educational institutions, arts and cultural organizations, health and human services, and others. The most common restriction is around religious organizations, but again, this can vary by employer.
Understanding these rules for corporate matching gift programs will ensure that your nonprofit makes the most of eligible donations. But there's more that goes into the matching gift process than meeting the initial guidelines. Your organization plays a key role in the next step: verification.
Verifying Corporate Matching Gifts
One of the most common ways nonprofits accidentally miss out on getting a matching donation from a company is by not verifying the gift. It might go without saying, but actually confirming with the matching gift company that your organization received a donation is pretty important.
Many companies use a third-party vendor to manage their matching gift process and allow nonprofits to verify donations. If your organization will be dealing with these vendors, you'll want your team to be up-to-speed on how to use them. Whether it's logging into an online portal or mailing in a letter, do not forget to verify the donation.
Once the donation has been verified, the company will submit their match!
2. Promoting Matching Gifts
Making the most of matching gift programs means understanding how they work. But you won't get very far past that stage if your organization doesn't actively promote this giving opportunity to your supporters.
There are several effective ways your team can get matching gifts on your donors' minds. Check them out below:
On the Donation Page
If you think that supporters are most engaged with your organization during the donation process…you're correct! Those who land on your donation page are seriously considering donating to your nonprofit. That much is certain.
But what if we told you that 84% of donors say they're more likely to donate if a match is offered? That would mean if they saw an opportunity about matching gifts on your donation page, it could be the extra push they need to submit their donation.
Just a simple mention of matching gifts or using a matching gift search tool (more on that below!) will notify donors that their gift can go twice as far and encourage them to begin the process of requesting a match.
On the Confirmation Page
Congratulations—your supporter made a donation to your organization! Now what?
The first thing they're likely to see after pressing Submit is a confirmation page that acknowledges their donation. For many donors, once they've given the gift, the process is pretty much over for them. Lucky for you, they're still close to the height of their engagement.
That's why promoting matching gift opportunities on your confirmation page is an excellent way to go. Donors already feel good about their gift. Why not make them feel even better by promoting an opportunity to stretch their contribution even further?
On a Dedicated Matching Gift Page
Even if supporters are just checking out your organization for the first time and browsing around your website, there are other ways you can promote matching gifts—even if they're not actively looking to donate.
A dedicated matching gift page, or even a "Ways to Give" page, should include detailed information about matching gift programs and their impact on your nonprofit. Featuring this information in a prominent place on your website will both educate supporters about matching gifts and encourage them to donate in the first place.
On Social Media
If your organization is active on social media, consider using your platform to share information about matching gifts. Even better, you can schedule posts throughout the year so you don't have to worry about forgetting.
Link your followers back to your website for more information, use visuals when you can, and keep your messages short and sweet.
On Google Search
Paid advertising can increase visibility for matching gifts, and with the Google Ad Grants program, you can tap into paid advertising for free! Eligible nonprofits receive up to $10,000 each month to spend on paid Google Ads.
As explained in Getting Attention's Google Ad Grants guide, "Organizations can use their grant money to bid on different keywords and promote specific pages on their website through text-based ads. Most often, these pages include donation pages, service pages, and educational content that align with user intent for the search term."
That makes Google Ads the perfect opportunity to promote your matching gift page on Google Search, especially considering that Google has more than 92% of the search engine market share!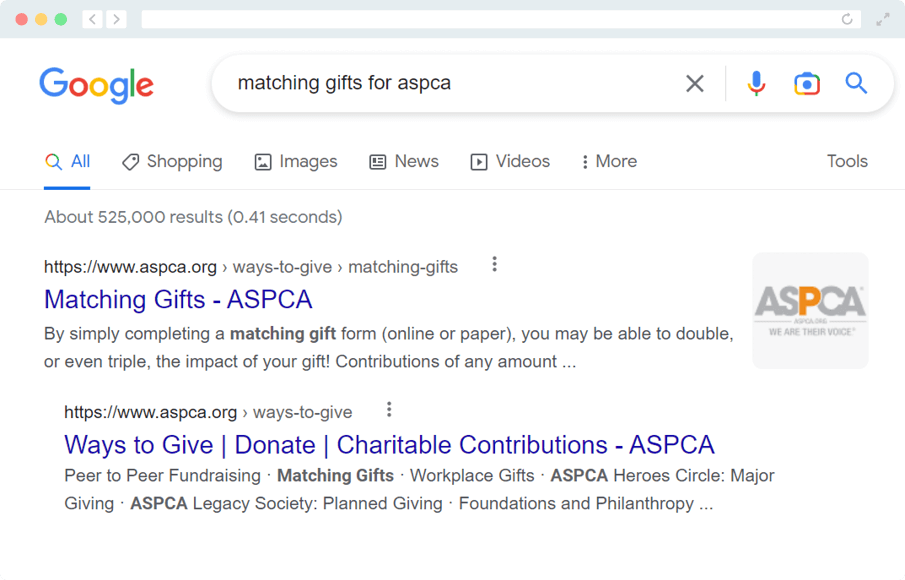 We recommend working with a Google Ads specialist who knows the ins and outs of the program. They can find the keywords that your supporters are searching and create ads that target those terms.
In Your Communications
Beyond promoting matching gifts on your website or social media platforms, your email list is a huge opportunity to get the word out about doubling donations.
There are a few different ways you can incorporate matching gift letters as part of your email outreach and promotion strategy:
Thank-you emails.

Once a donor has submitted their gift, they're likely going to receive a confirmation email from your nonprofit thanking them for their donation. This is the perfect spot to also mention that their donation can go twice as far with a matching gift.

Newsletters.

Does your team send out newsletters on a regular basis? Why not include matching gift information in a dedicated section of the email? Or, you can even send out one or two dedicated matching gift newsletters each year.

Year-end emails.

A majority of charitable giving takes place during the holiday season. Send out holiday messages as part of your year-end campaign that highlight matching gifts to potential donors. Many companies also allow donors to request a match through the end of the year in which they gave, so be sure to encourage existing donors to check whether their earlier gifts are eligible.
Include links in any of these emails that direct donors back to your website for more information. This is why it's a good idea to have a dedicated matching gift page on your site.
If you're looking to take your email outreach a step further, consider using specific links within your messages that redirect donors to different pages of your website. For example:
If a donor has submitted a match request

, encourage them to click a link in your email that will redirect them to a thank-you page on your website.

If a donor determines that their donation is not eligible for a matching gift

, offer a link they can click that will show them alternate ways to show their support.

If a donor wants to unsubscribe from emails,

redirect them to the corresponding page on your website.
Not only does this improve the donor journey, but it also gives your team a way to keep track of which donors have submitted matching gift requests, which donors are not eligible, and which donors want to unsubscribe.
Lastly, don't forget to incorporate direct mail! Include postcards or inserts that contain info about matching gifts with an easy link or QR code to send donors to your matching gifts page. These inserts can go into any of your printed communications to help spread the word about the opportunity.
Sample Matching Gift Letters
If you're looking for specific examples of the matching gift communications we've talked about, you're in luck! Here are some sample matching gift letters your team can send out to promote matching gift opportunities:
Sample 1: The simple nonprofit matching gift letter.
Dear [donor's name],

Thank you so much for your generous donation of [donation amount] to our nonprofit. Your contribution has already made such an impact to [your mission] by [example of physical impact]. We cannot thank you enough.

We think you might be able to double your impact! Your employer, [donor's workplace], may offer a matching gift program that can increase your gift! Matching gift programs are a form of corporate philanthropy where businesses match the donations their employees make to charitable organizations.

Taking the steps to get your gifts matched is a simple process and we are happy to walk you through the process:

Step 1: Contact your employer's HR head to see if they offer a matching gift program to increase your donation.

Step 2: Your HR head will point you in the right direction and let you know if you need to fill out any necessary forms and be aware of submission deadlines.

Step 3: Once you have submitted your matching gift request form or if you have any questions about the process, please contact us at [website URL] or [phone number].

Additionally, if your company doesn't offer a matching gift program or won't match your donation, please let us know as well.

We appreciate your support tremendously. You are the reason we are able to [recent accomplishment].

Thank you,

[nonprofit's name]
This letter is personalized to the donor and includes actionable next steps the donor can take to determine their matching gift eligibility. There's also an educational element to this letter, which explains what matching gifts are and how they tie into corporate philanthropy.
Sample 2: A higher education institution's matching gift letter.
Dear [donor's name],

The students of [school's name] are eternally grateful for your generous support. They cannot thank you enough for bringing [recent school renovation or improvement, like an improved library, new building, or renovated dorms] to life and providing a space for them to learn and grow.

Last year we raised [last year's total matching gift revenue] all from matching gifts, or donations made by businesses to match those made by their employees. With very little extra effort, many of our donors were able to double their original contributions because their employers had matching gift programs in place.

In a few steps, you can check to see if your company will match your gift. Here's what you can do:

Step 1: Contact your employer's HR head to see if they offer a matching gift program to increase your donation.

Step 2: Your HR head will point you in the right direction and let you know if you need to fill out any necessary forms and be aware of submission deadlines.

Step 3: Once you have submitted your matching gift request form or if you have any questions about the process, please contact us at our website [website URL] or phone number [phone number].

Additionally, if your company doesn't offer a matching gift program or won't match your donation, please let us know as well.

Your impact has already created a difference in the quality of life and the academic accomplishments our community has made recently. Imagine what can happen when your gifts are matched.

Thank you,

[school's name]
This letter outlines the impact matching gifts have had on the institution and provides specific instructions the recipient can follow to submit a matching gift request. This letter in particular also highlights tangible results of the financial support already received (a new building, updated library, etc.).
Using a Matching Gift Database
While promoting matching gifts through all of the above channels can be effective, you can kick it up a notch or two by using a matching gift database.
A matching gift database is the key to finding tons of information on matching gift programs all over the world. They list thousands of companies, along with those companies' matching gift guidelines, forms, and instructions. 
So how do you get access to a matching gift database?
This kind of info can be accessed in a couple of ways:
Matching Gift Search Tool
Invest in a matching gift solution that offers a matching gift search tool to embed anywhere on your website. That means on your donation page, your confirmation page, and your "Ways to Give" or dedicated matching gift pages.
Here's an example of a matching gift search tool in action: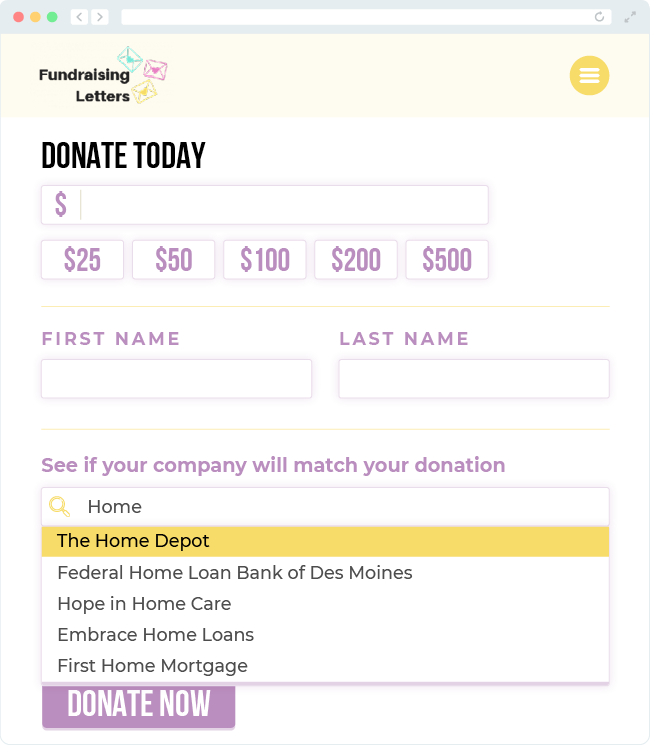 This search tool auto-completes the company name that's being typed in, making it easy for the donor to select the name of their company and load the results.
Matching Gift Automation
Another awesome tool that can come in handy for larger organizations is a matching gifts automation platform. Once donors fill out the donation form on your website and submit their gift, this platform scans their info for any indication of matching gift eligibility (a work email address, employer details, etc.) and then triggers out customizable emails on your behalf.
Here's what such an email would look like for someone who was determined to be match eligible: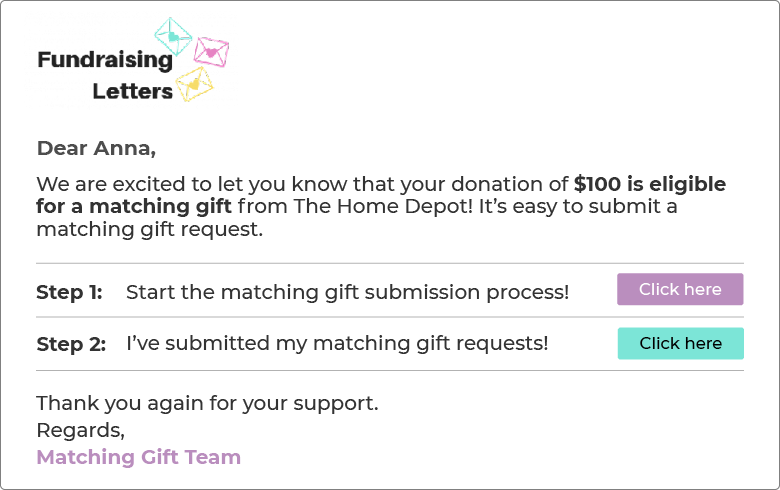 This email explains to the donor that their donation is eligible for a matching gift from their employer. There are buttons the donor can then click to indicate their matching gift status.
Using a matching gifts automation platform saves your team time because each match-eligible donation will automatically go through the platform's email stream and trigger the appropriate message. This leaves your organization more time to focus on high-value matching gift opportunities.

3. Other Matching Gift Best Practices
If you're looking for more matching gift best practices beyond promotion, we're going to conclude with a few suggestions that can help your team bring in more revenue.
Demonstrate the Impact of Matching Gifts
Donors love knowing their donations made an impact. And not just that—they want to know what their specific gift went toward.
In the case of matching gifts, share how much money has been raised specifically from corporate matches. Explain how this doubled (or even tripled) your fundraising revenue and met your goals.
Then, go even further and explain what reaching your fundraising goals accomplished. For example, did the extra revenue help your organization feed 1,000 more people? Be specific!
You can share this in an annual report, on social media, on your website, and through other communication channels.
Reach Out to Companies
We've explored how to promote matching gift opportunities to donors, but companies are the ones that control corporate giving programs. Reach out to companies with similar values to your organization to forge partnerships.
If you find businesses you'd like to work with that don't offer corporate giving opportunities, explain the following benefits they could receive from engaging in philanthropic initiatives:
Increased employee engagement. Employees want to get more out of their roles than the work itself. They want to feel that they are positively impacting their communities. Corporate giving programs like matching gifts allow companies to work together with their employees to support worthy causes, which can increase workplace engagement and satisfaction.
Improved reputation. When companies give back to their communities, consumers notice. Corporate philanthropy proves that companies are willing to use their profits for the good of society. As a result, they'll receive a more positive reputation and may attract more socially-conscious consumers.
Better workplace culture. Believe it or not, employees working together through corporate giving initiatives outside the workplace can forge stronger, more positive relationships in the workplace. Employees get to know each other better and build valuable teamwork skills through team fundraisers and volunteer opportunities.
Enhanced recruitment. Corporate social responsibility (CSR) is becoming an increasingly important factor in the job search. Prospective employees want to work for companies that contribute to the greater good. Companies that prioritize corporate giving and promote it stand out during recruitment.
Innovative operations. When companies focus on CSR, they often discover new and better ways to run their businesses. For example, a company may find that switching to a more efficient energy source for their offices not only positively impacts the environment but also saves the business money.
Companies without formal corporate giving programs may be surprised at how advantageous it can be for them to start their own. Encourage them to talk to their employees about which causes they care about so that their initiatives match their staff's priorities.
Follow Up on Incomplete Matches
As we've mentioned before, keeping track of the status of donors and their matching gifts can help your team stay organized and maximize your revenue from this channel.
This means you should be following up on incomplete match requests—though this can be challenging to do manually.
Using an automation platform, you'll be able to follow up with donors automatically, but not bombard them to the point where they get annoyed or disinterested.
Automation platforms incorporate sending limits, which helps your team limit the number of emails sent to donors within a given period of time. All you have to do is configure it in your settings. This applies to recurring donors, one-time donors, and even major gift donors. And once a donor indicates that they've submitted a matching gift request, they won't be contacted again about that particular donation.
Following up gets much easier when you have an automated system in place. Don't let your donors forget to submit a matching gift request if they're eligible, but keep your communication to a reasonable level. 
Acknowledge Matching Gifts
Last, but certainly not least, thanking your donors at each stage of the process is essential. Of course, you'll thank donors after they've made their initial donation, but you'll also want to thank them:
After they've submitted a matching gift request.

After the company match has been received by your organization.
Keeping your donors in the loop shows that you value their support and want them to know their efforts made a difference. You should also keep in mind that the matching gift company might have a set preference for acknowledgement, as well. Most companies don't need to be acknowledged and will say so—but if a company does want an acknowledgment, look for instructions from their outreach.
---
Incorporating these matching gift best practices and promotional strategies can help your organization raise the funds you need. Now that you have a basis to go off of, it's time to get back to work!
Additional Matching Gift Resources
We hope these tips have given you some great ideas for your organization! If you're looking for even more information about matching gifts, check out these additional resources: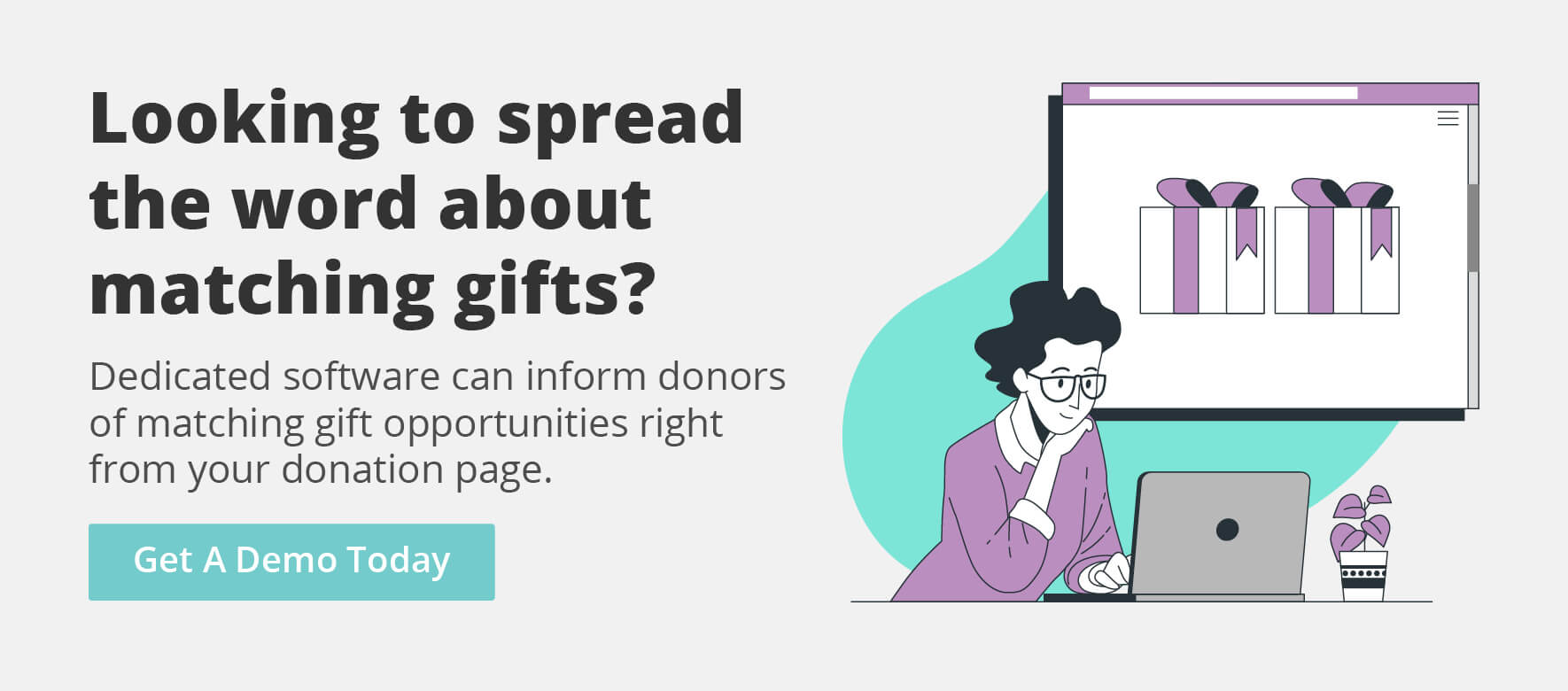 https://www.fundraisingletters.org/wp-content/uploads/How-to-Promote-Matching-Gifts_Feature.jpg
680
1770
Contributor
https://www.fundraisingletters.org/wp-content/uploads/Untitled-design-3-300x138.png
Contributor
2021-03-15 15:59:10
2023-12-06 19:56:45
How to Promote Matching Gifts (and Other Best Practices!)