Charity eCards: 3 Ways To Sell Greeting Cards Online

Charity eCards offer a unique take on fundraising and marketing. By sending an eCard, a donor can send well wishes to a loved one for a special occasion while also supporting a charitable cause. Not to mention, directly expressing their appreciation for your cause can help spread the word about your mission, making an even stronger impact as their loved ones explore your work.
With a strong digital greeting card collection, any nonprofit can take the online space by storm and make a name for itself. From celebrating holidays to thanking someone, donors can send cards every day, so your team can offer them year-round. Between selling them and letting donors give any amount they want, you have plenty of options for how you offer digital cards to supporters.
While there are plenty of effective tools out there, not every eCard creation platform is created equally, though. As our preferred tool, eCardWidget offers everything you need to design and sell greeting cards online. they make it incredibly simple to understand how to sell greeting cards online. We'll specifically look at the options this platform offers, so you can get a good sense of how charity eCards can fit into your existing marketing and fundraising strategies. Here's what we'll cover:
At Fundraising Letters, we're fanatics of effective supporter engagement and recognition. We believe that with charity eCards, you can bring an interactive element to your online presence that deepens audience engagement and takes brand loyalty to new heights. Whether you want to sell greeting cards as individual products or let donors choose any donation amount, you'll be ready to go by the end of this article!



The Basics of Selling Greeting Cards Online
If you're new to the idea of selling cards for charity, it doesn't hurt to go over the basics! Let's walk through a few common questions that your team might have as you get up and running. In no time, you'll fully understand the fundamentals of how to sell greeting cards online for your cause.
Is selling greeting cards online profitable?
Yes, selling cards for charity can be a valid revenue stream for your cause. So long as you're backed by a strong array of charity eCards, you can sell plenty to make up for eCard platform fees.
Compared to printed cards, offering cards digitally is much more cost-effective since it eliminates the need for printing and shipping. Plus, the immediate delivery makes them an easy sell for donors looking to celebrate an occasion or send well wishes to someone.
When you offer them for all sorts of occasions, your donors can conveniently support you throughout the year. Donors can even give to your cause in someone's name as a way to celebrate a birthday or other gift-giving occasion. Then, they can send an eCard branded to the charity letting the honoree know.
What is the best way to sell greeting cards online?
The exact method you use to sell eCards for charity is entirely up to your organization, but you have a few options. To start, we recommend choosing an eCard platform that's tailored to nonprofits. For example, eCardWidget offers out-of-the-box donation features and also integrates with several popular fundraising tools like DonorPerfect and Shopify.
With these options, you might:
Add the cards directly to your nonprofit's website, where donors can give in exchange for charity eCards.
Sell them as fundraising products in your Shopify store.
We'll explore the technical side of these approaches later on. For now, just know you should choose the sales channel that works best for your organization. If you already have a highly-visited eStore, sell the cards as products in your fundraising store. If you want to use them to optimize the donation experience, offer them on your website.
No matter your approach, maximize your sales potential by promoting them across different channels, like email and social media. In no time, you'll start selling greeting cards to supporters!
How do I price charity eCards?
Charity eCards typically have low overhead costs, so you can really offer them for any price and still make a profit. Your pricing can vary depending on factors such as the cost of producing each eCard and the demand for each one. Here are a few approaches you can take to price your cards:
Set a fixed price. You can set the same price for all of them, regardless of the design. We recommend somewhere between $1-$25 so that they're affordable yet still able to make a difference.
Use a tiered pricing model. Offer different designs for different prices. More intricate designs or more popular cards can go for higher prices.
Offer them in exchange for any donation amount. This approach relies on donors to choose their own prices. If you use this method, add suggested donation amounts to give donors a frame of reference for how much to give.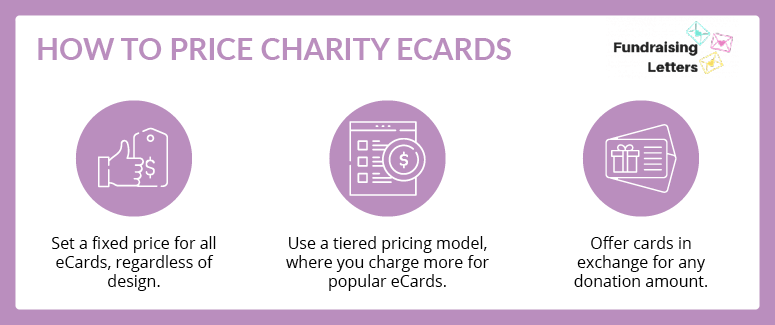 No matter how much you charge, remember that the primary goal of charity eCards is to raise awareness. Raising some extra funds is just a bonus! Therefore, your pricing strategy should strike a balance between generating revenue and making the eCards accessible to a wider audience.

Charity eCard Flow 1) Integrated Donation Forms
As fundraisers, we're always searching for new ways to optimize the giving experience. What better way is there to do that than by offering incentives for donating?
With your eCard platform, you might be able to integrate eCards into your online giving experience. As explained in our donation eCards guide, here's how the process works:
The donor selects their preferred eCard, adds the recipient's contact information, chooses a donation amount, and fills out their payment details.
Upon submission, the donation goes to the nonprofit.
The donor's loved one receives the eCard with a personalized message.
Some platforms even allow senders to select different platforms to send an eCard. Donors can send the cards via email, social media, or text message, depending on the options you enable. Requesting donations will be much simpler when you provide unique incentives and flexible sending options.
An Example of This Approach in Action
Curious how selling greeting cards for your charity would fold into your donation process? Here's a real-world example from The Humane Society of Tacoma & Pierce County.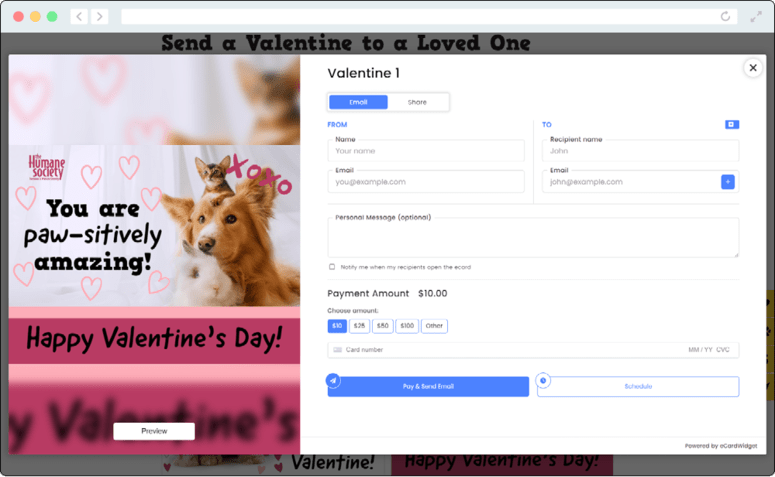 As part of their Valentine's Day campaign, they offered a collection of charity eCards stylized with furry pets and witty animal puns. They hosted the cards on an individual page on their site. Upon selecting their preferred card, donors were met with a pop-up screen where they could fill out contact information, add a personal message, select a donation amount, and provide their payment details.
Notice how The Humane Society included suggested donation amounts. The widget preselected the $10 amount, but donors could change it to give $25, $50, $100, or a custom amount that fit their budget.

Charity eCard Flow 2) Post-Donation
Offering charity eCards post-donation is another popular strategy. Embed the widget into your donation completion page. Then, whenever donors give, the widget will appear on the donation confirmation page.
While you can promote the reward before someone donates, it can be a fun surprise for donors if they don't know they'll receive an eCard until it pops up on the confirmation page.
From here, donors can choose their favorite options, fill out each recipient's contact information, add personalized messages, and click "send."
When using this method, offer a few different card designs. For instance, you might create some centered around the cause. Then donors can send them to as many loved ones as they want, challenging others also to give.
An Example of This Approach in Action
Offering eCards post-donation is likely the easiest option. All you really have to do is embed the widget into your existing donation confirmation page.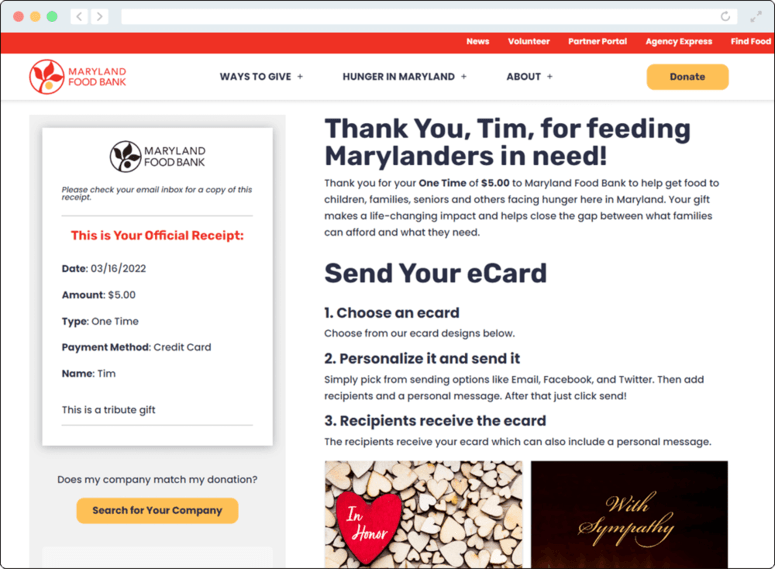 As shown above, Maryland Food Bank took this approach for tribute donations. Notice how they offered a collection of cards alongside some instructions for sending one.
The options included:
An in-honor-of donation eCard
A sympathy charity eCard to express condolences
A birthday card
A wedding congratulatory card
Each card design lends itself well to tribute donations. Donors can give in the honoree's name and send a personalized eCard letting them know.
No matter how much someone donates, they can choose one of these options. Remember, allowing donors to pay any amount makes charity eCards much more accessible, allowing you to capitalize on the marketing power of digital cards.

Charity eCard Flow 3) Fundraising Products
If your nonprofit runs an eStore, charity eCards are the perfect addition to your branded merchandise. When selling cards as products in your online store, there are two options to choose from, including:
Customize the eCard before purchasing. Enable donors to personalize their eCard and add it to their cart before checkout. That way, they'll know exactly what they're buying.
Customize the eCard post-purchase. Someone will add the card to their cart and complete the buying process. Then, after purchase, the widget appear on the confirmation page, enabling customers to send eCards with personalized messages.
Our recommended provider eCardWidget offers integrations with tools like Shopify. That way, you can add your cards directly to your store. As soon as you finalize your designs, you'll be able to sell greeting cards online and choose whichever selling option works best for your cause.
An Example of This Approach in Action
Let's take a look at how you can sell cards for charity as fundraising products. The example below depicts an order confirmation page with a Father's Day card.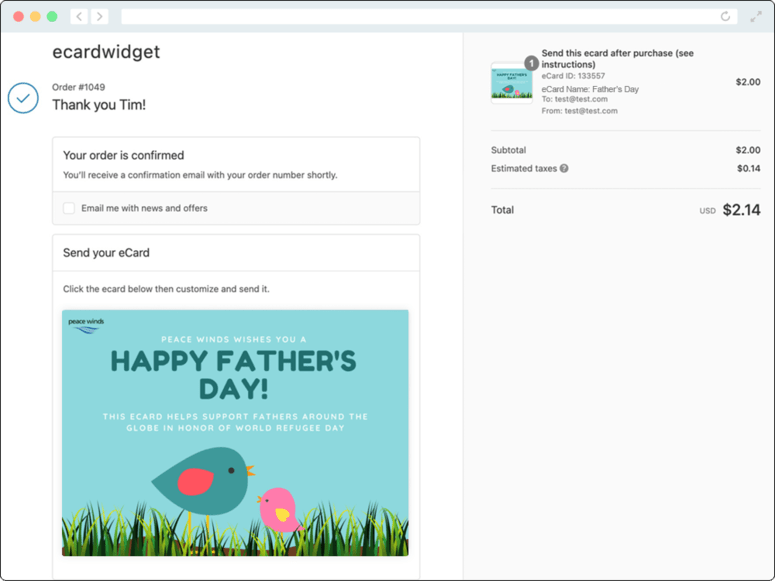 After purchasing an eCard, a donor would be met with the widget on the order confirmation page. From here, they could personalize and send it to their loved ones.
For this approach, we recommend offering an array of cards to cover all sorts of holidays and special occasions like birthdays. That way, you can continue selling them as fundraising products year-round for an affordable price.

Other Ways to Use Charity eCards
One of the best parts of charity eCards is their versatility. While learning how to sell greeting cards online is a smart strategy, you can also take other approaches to increase donor engagement.
When you get creative with your approach, you can use charity eCards to:
Spread awareness. Cause awareness is one of the leading benefits of charity eCards. Double the Donation's guide to charity eCards explains to use eCards to amplify your mission during cause awareness days, weeks, and months. For example, environmental organizations can encourage donors to send cards for Earth Day, while mental health organizations can boost awareness during Suicide Prevention Week and World Mental Health Day.
Recognize supporters. Just as much as they enjoy sending charity eCards, donors and volunteers will love receiving a thank-you card from your team. Recognize your committed supporters by crafting a visually-engaging eCard alongside a short personalized thank-you letter.
Challenge others to give. Create challenge cards that donors can send directly to their friends or post on social media, encouraging others to give and acting as a form of peer-to-peer fundraising. They can personalize a message to explain why the cause is important and why their loved ones should donate.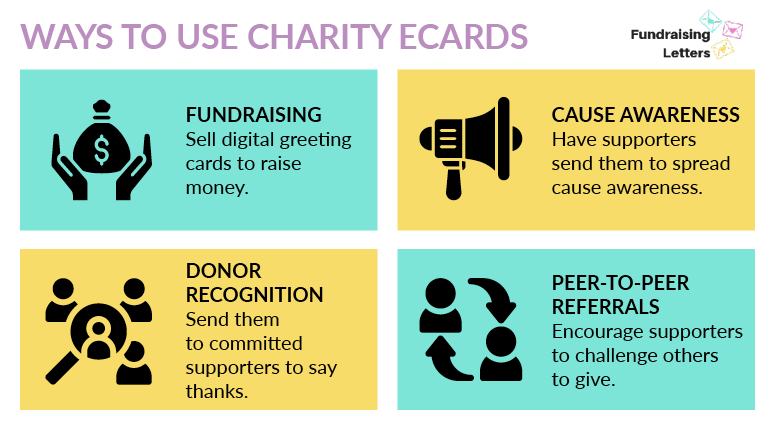 From showing volunteer recognition to sharing your cause, you're not limited to selling cards to supporters. In fact, there are plenty of ways you can use personalized greeting cards to grow donor engagement. It's up to your team to figure out how! These options are just our top recommendations.

Wrapping Up
With some creative thinking, your options for your charity eCards are limitless! Whether you want to sell them or integrate them into the donation process, figure out which flow works best for your team.
Remember, not every eCard platform offers these options. That's why we recommend eCardWidget. Not only will you gain access to intuitive eCard design tools, but you can also sell your cards through the different methods we covered in this post.
Now that you know how to sell greeting cards online, it's time to get started. Start designing cards for every occasion, from celebrating birthdays and holidays to expressing get-well-soon wishes.
As you get started, check out some of these resources: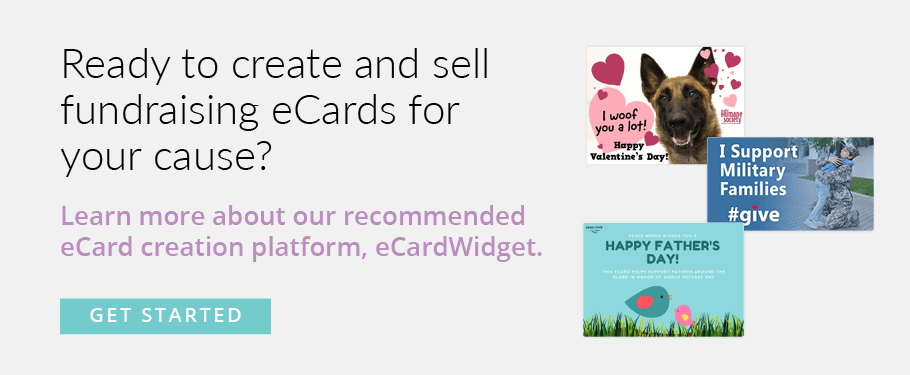 https://www.fundraisingletters.org/wp-content/uploads/Charity-eCards_Feature-Cropped.png
344
906
Erin Toland
https://www.fundraisingletters.org/wp-content/uploads/Untitled-design-3-300x138.png
Erin Toland
2023-03-30 13:17:27
2023-06-07 20:06:33
Charity eCards: 3 Ways To Sell Greeting Cards Online