Donor Recognition: Best Practices & Ideas for Nonprofits

In the nonprofit world, expressing gratitude for your donors' gifts is not only polite, but essential to your long-term success. Donor recognition is a critical piece of the donor retention puzzle that helps secure lasting support for your organization's mission.
After marketing your campaigns and events like a pro and driving results in your fundraisers, there's still important follow-up work to do to keep your nonprofit's momentum going. Donor recognition solidifies your donors' support and leaves them much more eager to get involved in your future work.
In this guide, we'll share some best practices and ideas for donor recognition by answering some basic questions you might have:
Having a concrete strategy in place for how you thank your donors, along with an arsenal of effective recognition ideas, will go a long way to strengthen support for your mission over time. Let's get started!

What Is Donor Recognition?
Donor recognition refers to the practice of thanking your nonprofit's donors for contributing in support of your mission. Depending on your goals, donor contact preferences, and resources, this can take many forms, from thank-you notes to appreciation events. Regardless of how you approach it, though, an effective donor recognition strategy will ensure that you cultivate strong and reliable donor relationships in the long run.
Your nonprofit's supporters engage with your organization because they want to contribute to the change you're powering in the community. The more you emphasize the role they play in this change, the more invested they'll be in contributing financially and spreading awareness of your work.

Why Is Donor Recognition Important?
Donor recognition is a key component of your nonprofit's larger donor relations strategy. Building relationships with donors helps to create the strong support network necessary for your organization to achieve your fundraising goals and further your mission.
Here are some of the specific benefits of donor recognition: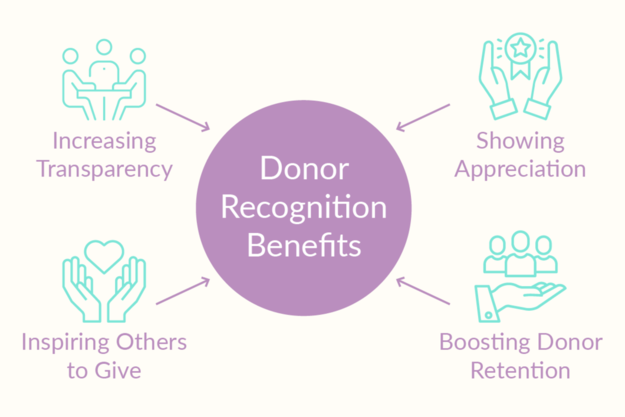 Showing appreciation. Probably the most obvious purpose of donor recognition is to let donors know you're grateful for their support, no matter how much they're able to give. This helps donors feel like your organization values them and that they're making a difference with their contributions.
Boosting donor retention rates. Donors who feel appreciated are more likely to give to your nonprofit again, allowing you to bring in more reliable funding year after year. Although your organization will sometimes need to reach out to new donors to grow, focusing more heavily on donor retention is more cost effective and less time consuming for your team.
Inspiring others to give. Recognizing your donors publicly can motivate potential supporters who are on the fence about giving to your nonprofit to take the first step. And don't underestimate the value of word of mouth—if donors share their positive donation experiences with their friends and family, you may gain new supporters!
Increasing transparency. Donor thank-you messages provide the perfect opportunity to share concrete examples of how your organization plans to use the contributions you bring in to further your mission. This accountability builds trust with donors and improves your nonprofit's reputation as an organization that follows through on its promise to make a positive impact.
To make the most of these benefits, make sure to recognize all contributions to your nonprofit—large or small, one-time or recurring. Over time, you'll be able to create a dedicated community of supporters that not only give regularly but also engage with your organization in other ways, such as volunteering, attending events, or advocating for your cause.

What Are Some Best Practices for Donor Recognition?
Make the most of your organization's time and resources by employing a thoughtful donor recognition strategy tailored to your donors' interests. Your donor management system (or CRM) should have valuable information on your supporters, such as communication preferences, giving history, demographics, and other involvement details to inform your approach.
1. Make it prompt.
Prompt recognition of your donors' contributions is vital to making sure they feel noticed and appreciated for their support. After a donation, supporters should immediately receive a confirmation or receipt via email with details such as the:
Donation amount. Include the donation amount and payment method to assure the donor that their gift has been accurately processed.
Donation context. Be sure to include the specific context of the donation, such as the name of the fundraiser or event the donor attended. For instance, if they attended a virtual auction and won an item, specifically mention the event and the item that they bid on to let them know you're paying attention to each and every donation you receive.
55% of U.S. donors prefer to be thanked for their gifts via email, so be sure to have automated thank-you emails set up to keep donor recognition from falling through the cracks. However, don't forget about direct mail—a physical follow-up letter can add a thoughtful touch and show donors that you value their support. For more tips on using direct mail to communicate with your donors, Pursuant's direct mail fundraising for nonprofits guide is a great resource.
2. Make it personal.
Take your donor recognition efforts to the next level by tailoring your communications to each individual supporter. Adjust each thank-you message by:
Addressing the donor by name. The more your donor feels like your communications are to them specifically from you specifically, the stronger a bond you'll forge between them and your organization.
Including an individual signature. Instead of a generic signature from your nonprofit, sign the letter from a real person at your organization whose job is relevant to the donation, whether it's your development chair, major gifts officer, board president, or other trusted staff member.
Adding a video with your thank-you. This is another effective way to humanize your message to donors. This could be a recorded thank-you from a member of your team, a constituent of your mission, or both.
Additionally, consider segmenting your donor base by age, gender, or location to further customize your letters and make your letters even more effective.
3. Make it powerful.
No matter what form your donor recognition takes, it's essential to communicate the impact of your donors' gifts. Always try to be as specific as possible about the positive change that their donation has powered. This will give the donor something concrete to feel good about and reinforces their connection to your cause.
For example, perhaps a donor's $50 donation provided school supplies for three students for a semester of school. One way to make this statement more powerful could be naming the students (with their permission), having them sign the recognition message, or sending pictures of them along with your letter of gratitude.
As well-intentioned as another request for support may be, asking for another donation in the middle of your thank-you letter may come across as ungrateful and disingenuous. Instead, offer the donor additional ways to engage with your nonprofit, such as signing up for your email newsletter or volunteering
4. Make it public.
Donors will appreciate your recognition, but they'll feel especially important when you promote their efforts for everyone to see. Publicly celebrating your donors bridges the gap between your gratitude and the overall impact donors had on your organization.
To do this, you might include information about your generous donors in annual reports or on your nonprofit's website. For example, incorporate specific numbers on a page about your program. Detail the number of donors and donations, the timeline of the fundraiser's progress, and how the money collected was spent within the program.
To further promote donor recognition, focus your resources on boosting visibility. Google's Ad Grant program, for example, can draw more attention to your website's landing pages. If you're approved for the grant, you'll receive $10,000 in ad credits, which you can use to help your webpages rank higher on the search engine results page (SERP). This leads more people to click through to your website, where they'll learn more about your donors' significant contributions!
What Are Popular Donor Recognition Ideas?
Once you have the essentials down, it's time to get creative. There are all sorts of ways to recognize your donors beyond traditional thank-you letters. First, evaluate your nonprofit's resources and capabilities.
Large organizations conducting major undertakings like capital campaigns might have the ability to construct permanent donor recognition installations on a grand scale, while smaller-scale nonprofits might opt for creating a virtual donor wall or sending thoughtful gifts.
The scale of the gift should also be considered when acknowledging donors. Establishing giving levels will ensure that smaller tiers of donations made to a crowdfunding campaign and large endowments for a building expansion are proportionately recognized. We'll cover both ends of the spectrum with the following popular donor recognition ideas.

1. Donor recognition walls
A donor recognition wall is a meaningful way for you to permanently convey your appreciation for your donors. Because they can accommodate many names, donor walls are usually associated with large capital campaigns. There is plenty of room for customization, so get inspired with Eleven Fifty Seven's donor wall ideas.
For example, the Berry Family Foundation features prominent donors' names on a wall titled "Thank You For Building Independence" beside the facility's welcome desk.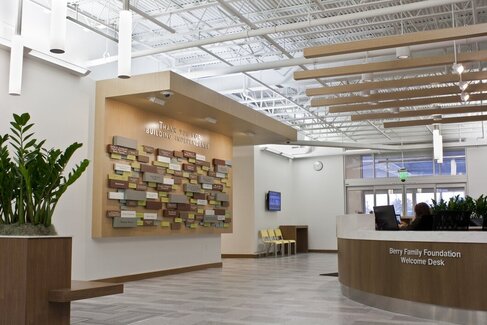 At the same time, nonprofits with limited budgets can benefit from the ease and added flexibility of virtual donor walls. With this appealing option, you can acknowledge donors as traditional recognition walls allow, while also having the ability to make updates at any time and drive online traffic to your nonprofit's site.
2. Donor recognition plaques
If a large-scale donor wall isn't quite feasible but you still want to recognize your major donors in a meaningful way, custom plaques are another excellent choice. Donor plaques are often featured outside the doors of a new building expansion or on landscape features like benches, but get creative to find the perfect fit for your unique donors and community.
3. Branded merchandise
For smaller-tier donations your nonprofit receives, gifts of branded merchandise are a more reasonable option than plaques. Consider sending out pens, T-shirts, mugs, and other customized items featuring your organization's name and logo as a token of your appreciation. This method has the added benefit of doing a little marketing work for you!
4. Events
Shine the spotlight on your donors by inviting them to an exclusive supporters-only occasion or finding ways to recognize them at public events. Making them a part of your community and your cause helps to ensure they'll keep supporting your mission well into the future. Casual virtual gatherings and happy hours are particularly cost-effective yet impactful ways to show your appreciation.
Out of these options, select which best fits your organization and the giving scale. Remember to always be prompt, personal, and powerful in all of your communications with your generous supporters.
Nurturing your relationships with current donors through effective and genuine recognition is a smart long-term strategy for securing enduring support for your nonprofit. And, you can show your gratitude for them every day, with your own donor recognition methods. Even when you aren't throwing an appreciation event, actively steward your supporters and send out regular surveys seeking their feedback.
By keeping tabs on which aspects of your work and mission resonate best with donors, you'll be able to optimize their experience with your organization. Best of luck!
Additional Resources
https://www.fundraisingletters.org/wp-content/uploads/ElevenFiftySeven_FundraisingLetters_Donor-Recognition-7-Best-Practices-and-Ideas-for-Nonprofits_Feature.jpg
338
900
Contributor
https://www.fundraisingletters.org/wp-content/uploads/Fundraising-Letters-by-NXUnite-eCardWidget-logo_New-Crop.svg
Contributor
2023-03-15 00:00:00
2023-08-23 13:55:57
Donor Recognition: Best Practices & Ideas for Nonprofits