4 Strategies for Meaningful Nonprofit Storytelling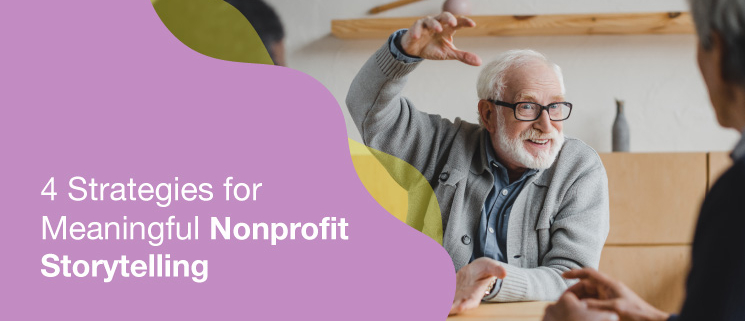 Most of us love a good story. Whether we're watching our favorite TV series, reading the latest best-seller, or listening to a friend relate a past experience, storytelling engages our emotions in a way that facts can't do on their own. Stories also tend to stick with us—it's estimated that stories are 22 times more memorable than simple facts.
For nonprofits, incorporating storytelling into your marketing strategy has a variety of benefits. Stories about your organization's history and impact can spread awareness about your mission, encourage donors and volunteers to get involved, and recognize the supporters who made your accomplishments possible.
To help your organization start telling meaningful stories, this guide will walk through four top nonprofit storytelling strategies, including how to:
As you start implementing these strategies, ensure all of the stories you tell align with your nonprofit's brand. According to Loop, nonprofit branding encompasses not only visual elements like logos and font choices, but also messaging guidelines. Effective stories communicate your organization's overarching brand message and unique position, persuading donors that your mission is worth supporting. Let's dive in!

1. Develop Characters and Conflicts
Before you start telling your nonprofit's story, consider the way stories are told in popular media.. Bear in mind that you'll take a slightly different approach to storytelling because your organization's stories are true and used for marketing purposes, rather than being fictional and told for entertainment value. However, the basic elements of your story will be similar, including:
To see these elements in practice, let's look at this story an animal shelter might use:
Dante, a four-year-old gray tabby cat, came to our shelter when his previous owner could no longer care for him. During his time here, he was brought up-to-date on vaccinations and underwent a dental procedure to treat advanced gum disease. Our amazing volunteers fed and socialized with Dante every day so he could go to his forever home happy and healthy. If you want to help cats in need like Dante, visit our Volunteer page to apply today!
This story focuses on a named individual who the organization helped—Dante the cat—and quickly establishes why he needed the shelter's help. Detailing the specific medical and social care Dante received makes the shelter's impact more concrete, and the last sentence calls upon readers to take action by applying to volunteer on the nonprofit's website.

2. Support Your Stories With Visuals and Data
Once you've developed the basic elements of your story, consider adding different types of visuals that each strengthen nonprofit storytelling. For instance:
Although stories are more memorable than facts alone, connecting the concrete data your nonprofit collects to your stories helps establish your credibility. To return to the animal shelter example, the organization could add a detail before the call to action stating that Dante was just one of 200 cats they had cared for in the past year. This data point helps readers realize that the shelter regularly makes a difference for animals in need, further encouraging them to get involved.

3. Consider All of the Audiences for Your Stories
Most stories have an intended audience. An upcoming movie may appeal to science fiction enthusiasts, or someone might tell a personal story to the friend who would find it most entertaining. But identifying the audience for your nonprofit's stories is often more challenging because your organization must communicate with a variety of audiences at any given time.
If you understand each of these audiences, you can tell stories that resonate with them and reflect well on your organization. Some common nonprofit audiences to keep in mind include:
Understanding your nonprofit's audiences not only helps you tell stories that appeal to each of them, but it also allows you to form stronger relationships with each of these groups that can have long-term benefits for your organization.

4. Tailor Your Storytelling to Each Marketing Channel
Your nonprofit can incorporate stories into any of your marketing materials, but your storytelling will vary based on the channel's limitations. Consider these common marketing methods:
In these marketing materials and any others your nonprofit uses, experiment with your storytelling techniques to determine which strategy is most effective. Analyze engagement data and consider asking your audience for feedback to improve your storytelling tactics over time.
Nonprofit storytelling can help your organization's various audiences connect emotionally with your cause and understand your impact more deeply. Think about whether each story you tell would make sense if it were a movie—if it would, you've optimized your storytelling efforts. Once you add visuals, incorporate data, and ensure the format works for your chosen marketing channel, you'll be ready to share your organization's story!
https://www.fundraisingletters.org/wp-content/uploads/Loop_Fundraising-Letters_4-Strategies-for-Meaningful-Nonprofit-Storytelling_Feature.jpg
330
745
Contributor
https://www.fundraisingletters.org/wp-content/uploads/Fundraising-Letters-by-NXUnite-eCardWidget-logo_New-Crop.svg
Contributor
2023-03-03 20:56:29
2023-03-08 15:37:42
4 Strategies for Meaningful Nonprofit Storytelling