4 Awesome Tools for Creating a Nonprofit Logo

What's the first thing you think of when you hear "the golden arches?" Whatever image your brain conjures, one thing's certain: you associate McDonald's with this phrase. This nickname stems from the chain's iconic logo, one of the most recognizable in the world. Logos have the potential to associate favorable qualities with your brands, such as McDonalds' salty fries or crispy chicken nuggets. 
Though logo creation is usually associated with the for-profit sector, your nonprofit can benefit from strong branding as well. If your organization hasn't created a logo yet, you're missing out on the valuable prospect of brand recognition. This guide will help you make a nonprofit logo that stands the test of time and cements your presence in your community. 
Table of contents:
Nonprofit Logo FAQ
Before we discuss tools to build your nonprofit's logo, let's answer some of the questions you may have about the purpose of nonprofit branding and logo creation. 
What is nonprofit branding?
While nonprofits have many differences from for-profits, the importance of their brand is a significant similarity. Your brand is your nonprofit's identity that you showcase to set you apart. It represents a variety of messages, including your mission statement, vision statement,  story, and initiatives. 
Your branding also includes aesthetic elements like your logos, graphic designs, colors, and fonts. It should be attractive and inviting to your viewer. It should be simple and meaningful so that anyone can pick up your organization's spirit.
You should be purposeful about your organization's branding strategy and prioritize certain traits. Here are some of the characteristics that should come across in your branding:
Professional

Personable

Reputable

Reliable

Trustworthy

Grateful

Selfless
This is only a handful of the attributes that you can capture with your branding. Whatever you choose to channel, ensure that it's a holistic representation of your organization's values, personality, and professionalism.
What's the difference between a logo and branding?
Having a strong and cohesive brand is necessary to forge a positive initial reaction from your viewer. Moreover, all the human brain takes is a tenth of a second to form its first impression, so you have little room for error. Your logo is a part of your overall branding strategy, but it's extra important because of how many eyes are on it. Logos use aspects of your branding like font and color scheme to establish a strong connection to your organization as soon as your viewer takes in your logo.
Think of your branding as your outward composure, and all of your viewers are strangers meeting you for the first time. In many instances, your logo functions as a greeting, the first hint of your brand your viewer gets.
What is graphic design?
Nonprofit graphic design is the combination of text and pictures to convey information or branding. According to Top Nonprofits, "images are powerful because they can communicate what words cannot. They can not only fortify your brand identity, but they can also communicate to your audience in a meaningful way." You can use graphic design to transcend language barriers and catalyze audience growth.
You'll need to use graphic design concepts to develop your logo. If you aren't a design professional, don't worry, you aren't alone. The tools in this article will help you build a logo, no matter your previous experience with graphics.
What's the purpose of your nonprofit logo?
What would the American Red Cross be without its eponymous emblem or the World Wildlife Fund without that cute panda? Logos are bite-sized symbols of your organization meant to leave your footprint across both the internet and your physical community.
As such, logos are a core part of every nonprofit's branding strategy and are essential for building up recognition and trust. Plus, logos can be used to build cohesive marketing campaigns, even when you're communicating with supporters are multiple, disparate platforms. For instance, they can be used to bring your unique presence to materials, such as: 
Websites

Blogs

Signs

Letters

Emails

Social media profiles

Promotional merchandise
All of the world's top nonprofits have recognizable logos, which has helped them spread their reach on a global scale. It's a versatile marketing tool that you must have in your arsenal to make your organization a thought leader in your space and beyond.
Nonprofit Logo Examples
Let's take a look at some effective nonprofit logos to give you an idea of what to prioritize.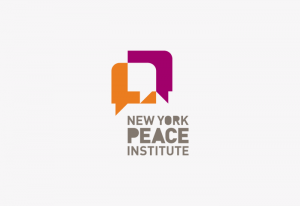 Why we love this logo: The New York Peace Institute's logo reflects its mission perfectly. The overlapping speech bubbles represent the amicable discourse that the NYPI champions. The white bubble in the center represents a middle ground where the two opposing sides can understand each other.

Why we love this logo: What's not to love about this logo? The bigger elephant is shown guiding the smaller elephant, which encompasses the mentoring project's mission of supporting young people through tumultuous times. The design is simple and easily comprehensible. Plus, look how adorable those elephants are! 

Why we love this logo: This logo for the national wildlife federation is another great example of nonprofit branding. It's shaped like a governmental seal, which implicitly establishes the organization's credibility. The inclusion of the ranger's hat on the raccoon hints at a deep connection between humans and animals that the federation advocates for.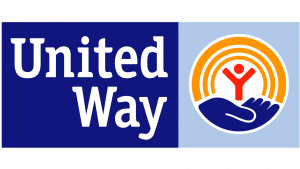 Why we love this logo: If you're in the nonprofit sector, you're probably already familiar with this iconic logo. United Way is one of the foremost nonprofit organizations in the United States, and its branding lends to its success. Though there are hundreds of chapters across the country, their branding is consistent and identifiable. The logo itself is colorful and welcoming, conveying a sense of warmth to people who know nothing about the organization.
Now that you understand the importance of branding and creating a powerful logo, it's time to get creative!
Tools to Create Your Nonprofit Logo
The process of creating visual branding like logos can be an intimidating undertaking, especially if you aren't experienced in digital design. Thankfully, there are thousands of graphic design services available to help you make a fantastic logo. Plus, if you're creating it yourself, you'll find that you don't have to reinvent the wheel; 95% of leading brand logos only have one or two colors in their logo. We'll discuss what makes each platform unique so that you can decide which is best for you. 
Tool #1: Kwala
Overview: Kwala's an all-in-one platform that specializes in all things nonprofit graphic design. Unlike many for-profit design platforms, Kwala specifically targets nonprofit organizations. This service will put your nonprofit in contact with a graphic designer. Once you've determined they're a good fit, they'll provide comprehensive graphic design services on a monthly basis with unlimited edits.
What it specializes in: Kwala creates designs for many parts of the nonprofit branding process. Beyond creating logos, they make designs for multiple products, such as t-shirts, flyers, table runners, yard signs, stickers, and posters. They also have an educational blog so that you can learn more about the importance of graphic design.
Why we love this provider: Kwala isn't just another graphic design platform: this team believes in the nonprofit sector's power to change the world. Kwala acknowledges that many nonprofits don't have the time or resources to afford quality graphic design services despite their utility. The Kwala team understands just how much time and effort goes into running a nonprofit, so their process is streamlined to help you achieve your mission and broaden your audience. 
Kwala understands the power of graphic design logos and the value of showcasing your work in a clean, artistic way to appeal to donors. The team advocates for small businesses and nonprofits by providing them with excellent graphics to compete with larger competitors. Because of their experience in the nonprofit industry, they know which designs appeal to donors.
If your nonprofit is looking for a logo provider with a personalized and professional approach, Kwala is your graphic design solution. 
Tool #2: Canva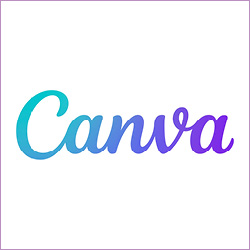 Overview: If you've ever looked into design apps for social media posts, chances are you've heard of this platform. Canva is a popular graphic design service that has over 60 million users across the world. It provides premade templates alongside the capability to make graphics from scratch.
What it specializes in: The majority of Canva users use it for creating social media content. They offer templates for numerous types of content, such as infographics and event flyers. Plus, you can resize the templates to be optimized for any social media platform or post types, like stories or feed updates.
In recent years, Canva expanded its offerings to cover many parts of the branding process. Here are some materials that you can make on the platform:
Logos

Flyers

Banners

Posters

Resumes

Invitations

Business cards

Collages

Graphs
As you can see, Canva is a one-stop shop for your self-created graphic design needs. 
Why we love this service: Canva is a great logo maker because it's so accessible, no matter your career or expertise. It appeals to a range of skill sets by supplying multiple levels of graphic design services. Additionally, it offers several tiers of advanced tools via different levels of payment plans. 
As for logo making itself, Canva has little to no barriers to entry. The platform has a community tab where you can view what other users have created, which is a great place to draw inspiration from nonprofits that you admire. It also has a specific tool to guide you through the logo creation process. This tool makes it simple to channel your brand identity into an impressive logo.
Though the service doesn't cater specifically to nonprofits, the Canva team still understands the need for graphic design in the nonprofit sector. It wants to reward nonprofits by offering their pro features for free. Consider taking advantage of this discount to access all of the tools Canva has to offer. 
Tool #3: DesignMantic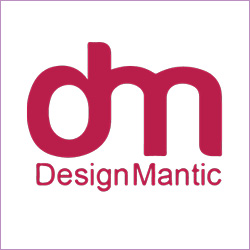 Overview: DesignMantic is a graphic design platform that allows you to create a logo design. The platform will automatically generate logo designs based on your organization's name and focus area, and you can change the design until you're happy with it. Plus, you can request as many logos as you want until you've found the right one. Once you've decided which design you want, you pay a fee for complete ownership of the logo.
What it specializes in: DesignMantic is primarily a logo-generating service, but it also creates templates for t-shirts, flyers, and websites. 
Why we love this service: This service is great because of how accessible, fast, and user-friendly it is. The only information you need to provide is your nonprofit's name and focus area, and it will instantly provide hundreds of contenders. This system ensures that your logo will be relevant to your nonprofit's area of expertise. 
Like Canva, this platform isn't tailored around nonprofit needs, but it still offers them valuable deals. If your organization applies to DesignMantic in advance, you can keep your favorite logo without paying the ownership fee. So, if your organization is on the go and looking for an inexpensive and quick logo solution, DesignMantic is your best bet!
Tool #4: Adobe Express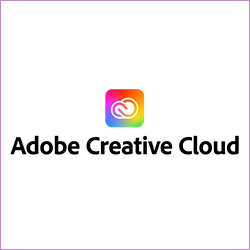 Overview: If you haven't heard of any other services on this list, you probably at least know this one. The Adobe Creative Cloud is a juggernaut in the digital creation space, boasting over 26 million paid users around the world. While many Adobe programs are known (and, in some circles, infamous) for their complexity and priciness, there's an answer for less tech-savvy users who still want to take advantage of industry-grade tools. 
Adobe Express is perfect for beginner graphic designers who don't need all the bells and whistles. It's a web and mobile app that allows you to create a myriad of graphics and other branded elements. It brings together the best features of other Adobe products such as Photoshop, Premiere, and Acrobat and streamlines the design process.
What it specializes in: Despite its name, Adobe Express is anything but hasty. The platform includes templates for nearly any purpose or event, and logos are no exception! It gives you access to millions of stock photos, thousands of fonts, and integration with other Creative Cloud products. Similar to Canva, Express offers a custom logo creator as one of its features. Best of all, this powerful tool fits in the palm of your hand with its mobile accessibility.
Why we love this service: Adobe products are the gold standard for digital design, and Express opens these tools to a wider user base. From its mobile-friendliness to its ready-to-use templates, this platform is highly accessible but still robust enough to enhance your digital design portfolio. 
If your nonprofit wants more features than what Adobe Express offers, you're in luck: nonprofits can apply for a discount on all Adobe paid products. If you're ready to roll up your sleeves and explore this expansive logo solution, now's the time!
The Bottom Line
Now that some of your questions are answered and you have logo design options to pursue, you should confer with your team to decide which solution best fits your branding needs. If you need further information to help you choose, explore the service's website or speak to a representative. You can even look at other examples of nonprofit graphic design to jumpstart your creative process. 
Whichever branding you develop and the platform you pick, always allow your mission, vision, and values to inform your decisions. Likewise, if you work with an external graphic designer, ensure that they have a firm grasp of what makes your organization tick so that they can best represent your interests. With a cohesive brand identity and logo design, your organization will not only be seen but recognized and appreciated, which is exactly what it deserves.
Additional Resources
Do you want to learn more about nonprofit branding strategies, graphic design, and visual communication? Check out some of these resources to deepen your understanding of these concepts.
https://www.fundraisingletters.org/wp-content/uploads/nonprofit-logo-feature-1.jpg
405
905
Rafi
https://www.fundraisingletters.org/wp-content/uploads/Untitled-design-3-300x138.png
Rafi
2022-07-26 18:08:12
2023-03-16 20:10:40
4 Awesome Tools for Creating a Nonprofit Logo