DIY Fundraising for Nonprofits: 4 Strategies for Success

As the fundraising field diversifies and evolves, new strategies and campaigns have taken center stage. Do-it-yourself style peer-to-peer fundraising is the perfect example.
DIY fundraising, whether it takes the form of a one-time campaign or evergreen fundraising opportunities that are always available for supporters, has become a prominent strategy to get supporters to participate in fundraising for your cause.
But benefits extend beyond just short-term fundraising goals. Encouraging supporters to take an active role in your fundraising efforts can actually increase your donor retention rates. With DIY fundraising, supporters get personally connected to the mission and stay motivated to fundraise because they know what they do makes a difference.
And the best part? Because they are social fundraising campaigns, DIY fundraisers help you reach new donor segments. According to The Giving Experience study by OneCause, 54% of first-time donors to these campaigns contribute because they want to support the person who asked them.
But how can you strengthen your DIY fundraising strategy and provide supporters with the best possible experience? Here are our top four strategies for effective DIY fundraising: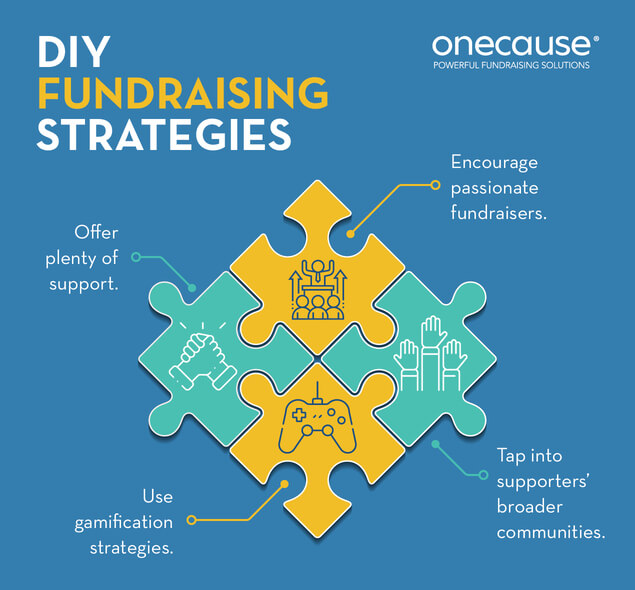 Encourage passionate fundraisers.
Tap into supporters' broader communities.
Use gamification strategies.
Offer plenty of support.
While DIY fundraising can take many different forms, following these best practices ensures that your participants stay motivated and engaged from start to finish. Let's take a closer look at how DIY fundraising can amplify your fundraising strategy.
What is DIY Fundraising?
DIY fundraising, or do-it-yourself fundraising (also known as supporter-driven fundraisers), empowers supporters to fundraise for your nonprofit in their own way. You've likely already encountered some forms of DIY fundraising, including:
Birthday fundraisers
Memorial or tribute fundraisers
Personal fitness challenges
School-wide fundraisers
Individually organized runs, walks, or rides
Supporter-hosted events (celebrity bartending events, concerts, food & wine parties)
Ambassador campaigns for galas
To get the most from DIY peer-to-peer fundraising, nonprofits need to provide supporters with centralized fundraising resources and tools. From toolkits to peer-to-peer software to personal fundraising pages, you need to have the right resources to set up your supporters (and your nonprofit) for success!
Although your nonprofit won't be fundraising directly in this type of campaign, strategic vision and guidance from your team are actually quite important for overall success. There are a ton of ways that you can support your fundraisers and help them get the most from their social networks.
Strategy 1: Encourage passionate fundraisers.
Have you ever connected with a supporter and thought they'd be a great ambassador for your cause? These passionate, committed, and impact-driven supporters are likely already in your contact list. All you need to do is sit down and think about who they are. Talk to your team and your volunteer managers, or look back at your donor data to help you identify the perfect people to lead your DIY peer-to-peer fundraising initiative.
Passionate supporters might surprise you and start fundraising on their own if they have the option. You won't always have control (and you don't necessarily need to) over who decides to launch a birthday fundraiser for your organization, for example.
But that's okay! The beauty of DIY fundraisers is you can recruit your participants and set up evergreen DIY fundraising programs that allow engaged supporters to come to you on their own. When identifying potential DIY participants, look for the following traits:
Passion: Your fundraisers should be excited to be involved. Perhaps they have a personal connection to your cause or are deeply motivated by your mission. Excitement is contagious, so find supporters who will help spread enthusiasm about your nonprofit and the work you're doing.
Knowledge: Be sure that any fundraiser, whether you specifically recruited them or not, has access to relevant information about your cause. Share an online library of brand assets and mission resources so it's easily accessible to all your DIY fundraisers.
Past Support: Consider a fundraiser's previous level of engagement with your nonprofit. Invite supporters who have a history of giving, event attendance, and/or volunteering. Past engagement is often a good indicator of DIY success.
No matter what, do everything you can to encourage your DIY fundraisers' passion. Taking the time to identify the right people for your supporter-driven strategies ensures you have the best of the best on your DIY team and maximizes the chances of retaining them over the long run.
Strategy 2: Tap into supporters' broader communities.
As you encourage your DIY fundraisers to spread the word, they'll promote their giving page to friends and family. But consider other pre-existing groups they may be involved with—churches, schools, workplaces—where their connections can generate even more support for your mission.
Workplace giving is a perfect example, and it's one of the greatest untapped resources for nonprofit organizations. According to 360MatchPro, an estimated $4-7 billion in matching gift funds goes unclaimed every year.
In addition to matching gifts, there is a variety of other workplace giving methods your donors may have access to, including:
Volunteer grants. Like matching gifts, volunteer grants are donations that companies make to nonprofits. Instead of matching employee donations, however, they make contributions based on the number of hours their employees volunteer. If your organization has a strong volunteer base, encourage them to check their eligibility and request volunteer grants from their employers.
Annual giving campaigns. Some businesses host yearly fundraising campaigns in which they raise money for a certain cause that their employees care about to encourage participation. If many of your supporters work for the same company, they can introduce your fundraising team to company representatives responsible for workplace giving to kick off a working relationship.
Charitable giving stipends. While less common than matching gifts, charitable giving stipends allow employees to give a predetermined amount of money to the cause of their choice. Your donors may have the opportunity to contribute funds to your organization on behalf of their employers instead of using their own money.
In-kind donation drives. Monetary contributions are important for ensuring your nonprofit operates smoothly, but you can also benefit from the donation of goods or services. For example, a company may host an in-kind donation drive to support an animal shelter in which their team brings in pet food, toys, and leashes to donate.
DIY fundraising is an ideal way to better incorporate workplace giving into your fundraising strategy. It helps you tap into supporters' broader circles of contacts, reach brand new supporters, and forge valuable relationships. You can even reach out directly to a business to see if they'll launch a campaign of their own.
By bringing DIY fundraising to the workplace, you can:
Connect with local businesses: Any nonprofit knows that partnerships with for-profit businesses are important. By encouraging local businesses to take action through fundraising, you can begin cultivating these relationships. Plus, if a local business has already run a fundraiser for your nonprofit, they're more likely to continue sponsoring your work, like by donating items or services to your upcoming auction.
Get your fundraisers involved: If you've connected with a passionate supporter, ask them if they'd be interested in hosting a fundraising event at their workplace. There are all kinds of workplace-friendly fundraising ideas out there to help them get started, and it's a great way to broaden your network.
Increase visibility: Whether you're working directly with a business or with an individual fundraiser, bringing fundraising to the workplace allows you to connect with all of the employees working there. This way, you can expand your donor base by meeting potential supporters you might not have encountered otherwise.
By empowering passionate employees to get involved and bring fundraising into their workplaces, you can enhance your DIY fundraising efforts.
Strategy 3: Use gamification strategies.
One challenge of DIY fundraising is keeping everyone motivated from start to finish. The best way to keep supporters engaged is to make it fun! We recommend gamification tactics to bring both competition and enjoyment to your DIY fundraisers.
Incorporating gamification strategies takes even the most creative fundraising ideas to the next level. To add gamification to your DIY fundraiser, try:
Fundraising leaderboards: Motivate your fundraisers by showing off top performers. A little healthy competition can go a long way to keep supporters engaged throughout the fundraiser and can help everyone raise more funds.
Implement rewards: Offer rewards to incentivize your supporters to hit or even smash fundraising goals. These rewards could include anything from branded merchandise to a facility tour to a prize provided by a local business.
Create milestone achievements: Set milestones or goals for your peer-to-peer fundraisers to work toward. Giving people concrete goals to achieve is a great motivator and can help make their impact feel more tangible.
Involve teams: To get more people involved and to keep your fundraisers motivated, encourage them to get their friends and family members involved by forming teams. This way, team members can lean on each other for support and work to motivate each other.
If you find that gamification works very well with your donor base, consider investing in dedicated P2P fundraising software to streamline the process and seamlessly integrate gamification into your participant experience.
Strategy 4: Offer plenty of support.
Your fundraisers will feel motivated to continue fundraising if they feel like your nonprofit is there to support them along the way. Be sure to offer your DIY fundraisers a helping hand with:
Detailed fundraising guides: If your supporters want to run a virtual program or engage in a more complicated activity, create a step-by-step guide and other training resources. These helpful tools set them on a path to success and provide a roadmap for how to execute a successful DIY fundraiser.
Shoutouts on social media: Your DIY supporters deserve public recognition! Share their extraordinary efforts on your social media pages and thank them for their participation. This is also a great way to bring even more visibility to your support-driven fundraising efforts.
Share impact: For today's donors, it's essential that nonprofits share the impact of their work. Doing so boosts your fundraising efforts by showing donors that their DIY support really does make a difference. Your fundraisers want to know how they've impacted your cause, so tell them!
Supporting your fundraisers with guides, social posts, and impact-sharing creates a culture of gratitude and teamwork for your DIY program. It also allows you to support these efforts at scale, giving your participants a helping hand but not overburdening your team. No matter what kind of DIY program you launch, just remember to build in support structures and reach out to your supporters along the way!
---
Your DIY fundraisers have dedicated time, passion, and energy to raising money for your cause. Some of them have had your help and some of them haven't, but regardless, make sure to say thank you. Expressing gratitude demonstrates that you are thankful for all their hard work.
Be sure to continue supporting your donors and giving them the tools they need to be successful. You'll have all kinds of effective DIY fundraisers up and running in no time.
---
Kelly Velasquez-Hague brings over 20 years of fundraising, nonprofit management, and sales/marketing experience to her role as the Director of Content Marketing for OneCause. As a member of the OneCause sales and marketing team, Kelly manages all of the company's content strategy and execution. She is passionate about empowering great missions and loves that her current role allows her to continue to help nonprofits reach new donors and raise more funds for their cause.
https://www.fundraisingletters.org/wp-content/uploads/diy-fundraising-for-nonprofits.png
285
745
Contributor
https://www.fundraisingletters.org/wp-content/uploads/Untitled-design-3-300x138.png
Contributor
2022-09-22 13:48:20
2023-11-22 18:46:19
DIY Fundraising for Nonprofits: 4 Strategies for Success