Raising More with Effective Crowdfunding Practices: 5 Tips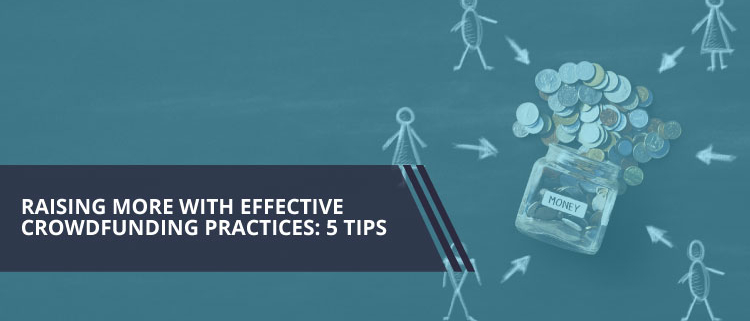 Did you know that the first known example of a successful crowdfunding campaign took place in 1997 when a British rock band called Marillon raised more than $60,000 online to fund their reunion tour? That was a huge milestone for online fundraising. In the 20+ years since crowdfunding's inception, individuals, teams, and organizations have continued to utilize a similar approach. Today, crowdfunding practices continue to develop in increasingly convenient and effective ways, leveraging modern technology and fundraising strategies.
In the midst of a global pandemic, requesting donations can seem more daunting than ever. Yet if you're looking to get started with a powerful virtual fundraiser for practically any cause, crowdfunding is your answer.
If you're looking to raise money in 2020, whether as an individual or as part of a larger fundraising organization, we've compiled a list of crowdfunding best practices to help:
Compare top crowdfunding platforms.
Send out targeted donation appeals.
Set suggested giving levels.
Encourage matching gifts.
Thank your donors.
Ready to learn more about maximizing your crowdfunding potential? Let's get started.
1. Compare top crowdfunding platforms.
Not all fundraising platforms were created equal. It's a good idea to do your research and shop around a bit before settling on a crowdfunding platform for your upcoming campaign. Here are a few considerations to keep in mind as you explore various options:
Pricing: Since you want to retain as much of your donations as possible, it's important to look for a platform with reasonable and relatively low fees. However, even "free" platforms likely come with platform and payment processing fees, so it's a good idea to look out for those.
User experience: Make sure your crowdfunding platform is easy to use,

both for the team setting it up and for their donors

. Donors should be able to make their gifts in just a few seconds with a streamlined giving process, and fundraisers should set up and maintain campaigns with ease.
Integrations: Software integrations have the power to bring any solution up a few levels. For example, a crowdfunding platform that integrates with your CRM automatically captures donor information, making it easier to do everything from send thank you letters to targeting past donors for future events and appeals.
To get started finding the right solution, we recommend checking out resources such as Fundly's comparison of 35+ top crowdfunding sites, complete with pros and cons of each. Keep the above considerations in mind, and you're sure to find one that suits your needs!
2. Send out targeted donation appeals.
Creating targeted and individualized donation appeals is a fantastic way to personalize your crowdfunding campaign.
For example, this cheat sheet is a valuable resource for getting started with donor segmentation. Be sure to look at the following characteristics of your supporter base and ask yourself questions like these:
Engagement history: Has this individual given to your cause before? Have they attended an event or signed up for a newsletter?
Previous gifts: What is this donor's average gift size? Have they given to your cause on several occasions—and if so, how much time elapsed between gifts?
Communication preferences: How does this individual typically communicate with your team? Do they seem to respond best to direct mail, email, text, phone calls, social media, etc.?
Then, by answering these questions, you'll be able to adjust your fundraising appeals to account for each supporter's unique characteristics. Understanding how much your donors usually give can even help you set giving tiers in your crowdfunding campaign (which we'll discuss in more detail later).
For example, if you launch an email campaign soliciting donations, you might adjust each email for an appropriate amount. If you're creating a crowdfunding campaign, however, you can still send that appeal letter. And by knowing that your donors usually give between $50-200, you can set the giving tiers on your campaign to $50, $100, and $200.
As a fundraising organization, the best way to keep up with this data is typically with a CRM for nonprofits, otherwise known as a constituent relationship management system.
If you're raising money as an individual, however, targeted appeals can be completed manually by simply adjusting your fundraising letters and other outreach strategies to the intended recipient.
3. Set suggested giving levels.
One of the main assets of crowdfunding is the ability to collect small donations from a wide audience in a way that can add up very quickly. A key way that this type of fundraising campaign is able to do so is by strategically demonstrating the impact that each donation has on the overall cause. This idea is often implemented through giving levels or suggested donations that correspond to a specific impact or incentive.
For example, imagine you're fundraising for a nonprofit that provides school supplies for impoverished children. You might include the following giving levels in your crowdfunding campaign:
$25 provides a child with school supplies for a year.
$100 provides a child with a tablet for virtual learning.
$500 provides an entire classroom with school supplies.
By including these suggested giving levels on your crowdfunding page, you make sure each prospective donor knows exactly how their gift will be used and the type of impact they'll make. That way, they'll be more likely to support your campaign, and they may even make a larger contribution than they might have otherwise.
For a more concrete example, take a look at this case study where a California nonprofit raised more than $75,000 in a week for their COVID-19 related food drive by rallying their community around a crowdfunding campaign quickly and effectively. Be sure to note what worked about their campaign and emulate these best practices in your own!
4. Encourage matching gifts.
If you're raising money for a nonprofit, many of your donors' gifts are likely eligible to be matched by their employers through widespread corporate giving programs. The problem is, however, that many eligible donors are unaware of these programs!
According to Double the Donation's matching gift statistics, 84% of survey respondents reported a higher likelihood to give if they knew their donation was being matched by their employer, and 1 in 3 donors reported a propensity to make a larger gift if a match will be applied.
That being said, it's a good idea to inform your donors and prospects about matching gifts, while reiterating the availability and power of these programs. You can even include a reminder about matching gifts (and encourage your donors to research their own eligibility) in your follow-up messaging to ensure everyone is aware.
The more donors are aware of this fantastic opportunity to make their gifts go further, the more likely you are to receive this bonus funding for your organization. After all, who wouldn't want to further their impact without reaching back into their own pockets?
5. Thank your donors.
Once your crowdfunding campaign has concluded, that doesn't mean your job is over. In fact, one of the most important aspects of any fundraising campaign is the follow-up.
Hopefully, your crowdfunding platform allows you to automate donation receipts so that each supporter receives a digital confirmation of their transaction and a quick thank-you note (yet another reminder to choose your crowdfunding software wisely!). However, it's a good idea to take that donor appreciation a bit further by thanking your donors in a more personal and meaningful way.
For example, sending out thank-you letters to donors who contribute to your crowdfunding campaign can be a nice touch. Alternatively, you might choose to make a personal phone call to each individual who supported your campaign.
Regardless of your choice in donor appreciation method, the important part is that you effectively communicate with your supporters the significant impact that they had on your campaign and overall cause. After all, you couldn't have reached your goals without them!
---
Crowdfunding is a fantastic way to raise funds for virtually any cause—from individuals with medical bills to nonprofit organizations looking to deepen their impact on their missions. However, a less-than-carefully-prepared campaign tends to bring in significantly less funding than the organizers desire.
Avoid that pitfall by implementing these fundraising best practices in each of your upcoming crowdfunding campaigns, and you'll be reaching (or surpassing!) your goals in no time. Best of luck!
https://www.fundraisingletters.org/wp-content/uploads/Fundly_Fundraising-Letters_Raising-More-with-Effective-Crowdfunding-Practices-5-Tips_feature.jpg
350
750
Contributor
https://www.fundraisingletters.org/wp-content/uploads/Fundraising-Letters-by-NXUnite-eCardWidget-logo_New-Crop.svg
Contributor
2020-10-21 15:44:55
2023-03-08 15:24:00
Raising More with Effective Crowdfunding Practices: 5 Tips