6 Best Outreach Methods for Your Next Capital Campaign

Capital campaigns can be absolutely critical to take your nonprofit's work to the next level. These campaigns are periods of concentrated fundraising efforts to raise a significant amount of money to achieve a substantial goal that will allow your organization to more effectively work toward its mission. 
Your nonprofit might decide to launch a capital campaign to construct a new building, create a new program, or purchase a necessary but expensive piece of equipment. No matter what level of experience your organization has with capital campaigns, a refresher of outreach basics will help you make the most of your campaign. In addition, many nonprofits have had to adjust to coronavirus-related restrictions that place new challenges on capital campaign outreach efforts.
Although your outreach efforts might look different this year due to these changes, your capital campaign will still consist of two outreach phases: the quiet phase, where you reach out to your existing network of major donors, and the public phase, where you introduce your campaign to the general public and solicit final donations to your cause. 
Both phases have their own specific outreach opportunities to help achieve the goal of getting a sizable number of donors on board to meet your fundraising needs.
To make your next capital campaign a smashing success, we recommend a blend of tried-and-tested techniques such as letter-writing campaigns with a dash of the latest trending virtual tools to round out your outreach efforts. 
We've compiled a list of the six best outreach methods to use during your capital campaign depending on the phase you're working on:
Quiet phase outreach methods: 
Sending fundraising letters

Making phone calls

Polishing and publishing campaign website
Public phase outreach methods:
Incorporating giving (and fun!) into kickoff event

Reaching out via social media

Following up with thank-you letters
According to Bloomerang's guide to capital campaigns, organizations that conduct successful campaigns also see greater returns in their annual giving programs and an increase in subsequent major and planned gifts. Therefore, in addition to helping your nonprofit reach its immediate fundraising campaign goals, these tips can plant the seeds of giving in your community for years to come. Let's take a closer look at the best outreach methods for each phase.
Quiet Phase Outreach Methods
The first outreach phase of a capital campaign may be called the quiet phase, but that doesn't mean you literally stay quiet about your plans. In this phase, you'll set up meetings with your major donors who have previously given large sums to your mission to see if they're interested in supporting your current campaign. In the pandemic era, these meetings will be virtual, but these tips will also apply when in-person meetings resume.
The first phase of your capital campaign is where you'll receive the largest donations to your campaign, so it's important to optimize your outreach efforts during this phase of the campaign to make significant strides to your goal.
One of your greatest outreach assets in the quiet phase of your capital campaign is your nonprofit CRM database. You can use the information stored in your CRM to not only identify past major donors to connect with, but also identify other donors who have the potential to become major donors. For instance, your regular mid-tier donors who have the capacity to give more might be willing to do so because it's a one-time campaign designed to accomplish a single specific goal. 
Look for these opportunities in your donor database by analyzing the potential generosity of your existing supporters (using prospect research software) as well as their engagement metrics. Supporters with a high giving capacity who are regularly engaged with your organization are the most likely to contribute during the quiet phase of your campaign. 
To maximize your fundraising results in the quiet phase of your next capital campaign, consider these outreach methods that rely on your nonprofit CRM and other digital tools:
Sending Fundraising Letters
Even though it may seem old-school, a well-crafted fundraising letter can make all the difference between a rejection or a donation boost in your capital campaign. 
Use fundraising letters to reach out and inform supporters about your campaign before setting up a meeting, or send a letter after the meeting to put the information you've discussed in writing for reference and to make a final appeal. 
When you're ready to write your letters, Fundraising Letters offers pre-drafted letter templates for all kinds of organizations including nonprofits, churches, public schools, and more. We have a few tips to help customize these templates and apply them to your capital campaign: 
Describe the goal of your capital campaign and how it fits into supporting your organization's overarching mission.

Tell a compelling story of how the fundraising from your capital campaign will enhance your organization's ability to help people in the community. 

Input the names of the recipients and the fundraising request amounts you gathered from your CRM to personalize the messages. 

Customize the templates to match the tone of your organization. 

If this is a preliminary letter, request a virtual meeting with the donor to offer further information on your campaign. If this is a summary letter after you've already held a meeting, thank the donor for their time and provide your contact information for any further questions. 

Sign the letters with your name—people appreciate knowing they're corresponding with another human and not a robot. 
Following these tips will help you customize your outreach letters to match the urgency of your current capital campaign and connect with potential major donors.
Making Phone Calls
Similar to a letter-writing campaign, some people may shy away from making phone calls because it seems like an outdated, unproductive marketing tactic. However, making personalized phone calls to donors goes a long way toward fostering donor relationships and maintaining their support. Think of these outreach calls as calling up a trusty friend to seek their support for a new venture. 
Specifically, you might want to use your outreach phone calls to see if donors might be willing to be a sponsor of your capital campaign kickoff event and set up an ensuing video chat meeting to explain your request further. You can use Fundraising Letter's sponsorship letter templates to guide the script for your outreach phone calls. These additional tips will help you have a successful phone campaign:
Make your calls during the evenings from 6-9 p.m. when people are generally at home and done working for the day. 

Use donor data from your CRM to reference the donor's specific history of engagement with your organization and how grateful you are to have their continued support.

Use your script for reference to keep the conversation on track and include the ask amount that's personalized to each donor.
Phone calls offer another COVID-safe outreach method that sets the stage for an eventual face-to-face donor meeting using video conferencing or live stream software. 
Polishing and Publishing Your Capital Campaign Website Content
As your quiet phase winds down and you start preparing to introduce your campaign to the public, ensure that content on your website devoted to your capital campaign is optimized for educating the public on the goal of your campaign and providing easy access to donation pages. 
Your capital campaign website content can be a separate microsite linked to from your main organization site, or a page within your website. Be sure this optimized information is ready to be pushed live on the day when you kick off your capital campaign.
Your capital campaign page or website should include an overview of the goals of your campaign and illustrate the ways that donations will help achieve your mission. Include prominent call-to-action buttons that encourage supporters to "Donate now!" and take them to a well-designed donation page where they can easily input their credit card information. 
Ensure your website is optimized for receiving a high volume of donations and ready to be presented as you transition to the public phase of your capital campaign. 
Public Phase Outreach Methods
After you've received the support of several major donors in the quiet phase of your capital campaign (nonprofits typically receive anywhere from 50-70% of total capital campaign donations during the quiet phase), you're ready to launch into the public phase of your campaign where you garner support from the larger community for your cause. 
The aim of this phase is to reach out to as many potential donors as possible in a wide range of public-facing events and communications. Your outreach efforts should focus on energizing your audience to reach your fundraising goals. A few outreach strategies you can use to make it through the second half of your campaign include incorporating giving into your kickoff event, reaching out on social platforms, and following up with thank you letters.
Incorporating Giving (and Fun!) Into Kickoff Event
Just because your capital campaign kickoff event goes virtual doesn't mean it has to be any less fun. Your virtual kickoff event can actually look fairly similar to in-person events. You can host a virtual concert with a well-known artist, an online gala with special entertainers like a comedian or public speaker, or a live-streamed groundbreaking ceremony for your new project. 
Use your kickoff event to not only make people aware of and excited about your capital campaign, but also provide donation opportunities during the event itself. In your virtual kickoff live stream or video, point people to your donation page on your website. Keep a running log of donations received on your website to allow donors to see how their donations are pushing you further toward your goals. Creating and refreshing a fundraising thermometer graphic is a fun way to continuously update supporters. 
Fonteva's guide to virtual events provides virtual event best practices that all nonprofits should be aware of such as collecting key event data, fostering communication with and between attendees, and keeping an eye out for any technical challenges. Your virtual event kickoff will set the tone for the rest of your capital campaign, so use it to generate buzz at the start of the public phase. 
Reaching Out Via Social Media
Social media will be your best friend and one of your greatest outreach assets in the public phase of your capital campaign. 
Post to your social media platforms like Facebook, Twitter, and Instagram to keep your supporters updated on your campaign progress and reach out for additional donations needed to reach your goal. Make sure to customize the content you post to be specific to the platform you use and the way that supporters interact with it. You can use Instagram Stories or Facebook Live to give people more information on your campaign or start up a Twitter hashtag with your campaign title to generate conversation. 
Depending on the size of your social media following, your campaign posts have the potential to reach hundreds, if not thousands, of potential supporters of your cause. Keep your social media posts concise and to the point so anyone who scrolls past immediately understands the purpose of your campaign and how their donations can help achieve your goal. 
Following Up With Thank-You Letters
Finally, as the donations pour in during the public phase of your campaign, be sure to thank each donor with a personalized message of gratitude.
Demonstrating appreciation and fostering donor relationships is a crucial part of donor retention. Donor retention is the calculation of how many donors continue to give to your organization year after year. According to this guide to donor retention from Bloomerang, boosting your donor retention rate has major payoffs because your organization won't have to spend as much on donor acquisition and donors tend to give in higher quantities over time. 
Be sure to go above and beyond to show your appreciation to donors to boost your donor retention rate. For example, in addition to an initial thank-you in the donation confirmation email, you might also send a hand-written letter or host an appreciation event after the campaign ends. Donor appreciation letters help supporters feel valued and leave donors with a positive impression of your organization and a willingness to stay engaged in your mission.
Your capital campaign can be an easy jumping-off point for your donor retention strategy. You've already gotten the attention of an abundance of capital campaign donors. Now, you can focus ongoing outreach and communication efforts on converting these capital campaign donors to repeat donors who maintain an active and fruitful engagement with your organization.
---
With these outreach strategies in mind, your next capital campaign can thrive and be successful even in the midst of an uncertain year. By putting donor relationships at the forefront of your outreach efforts, you can gain the support of a wide range of people in your community who stay engaged in your mission even after your campaign concludes.
---
Co-Founder and current Chief Relationship Officer at Bloomerang.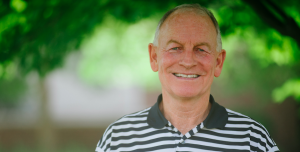 He has served this sector for 33 years and is considered the most well-known senior statesman whose advice is sought constantly.
Prior to Bloomerang, he was the CEO and Co-Founder of eTapestry for 11 years, which at the time was the leading SaaS technology company serving the charity sector. Jay and his team grew the company to more than 10,000 nonprofit clients, charting a decade of record growth.
He is a graduate of Butler University with a B.S. in Business Administration. Over the years, he has given more than 2,500 speeches around the world for the charity sector and is often the voice of new technology for fundraisers.
https://www.fundraisingletters.org/wp-content/uploads/Bloomerang_Fundraising-Letters_6-Best-Outreach-Methods-for-Your-Next-Capital-Campaign_Feature.png
340
907
Contributor
https://www.fundraisingletters.org/wp-content/uploads/Fundraising-Letters-by-NXUnite-eCardWidget-logo_New-Crop.svg
Contributor
2021-02-24 16:17:43
2023-03-08 15:28:36
6 Best Outreach Methods for Your Next Capital Campaign