4 Key Qualities to Look for in a Google Ad Grant Agency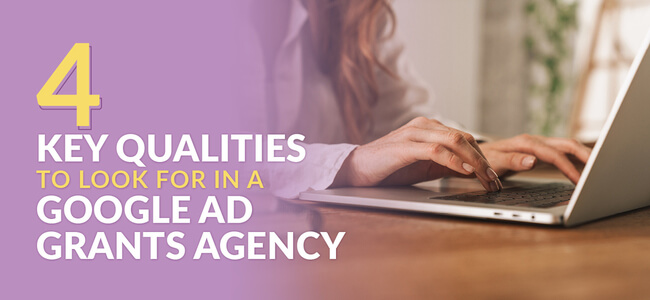 According to Nonprofits Source, The Google Ad Grants program has provided $10 billion in free advertising to more than 115,000 nonprofits across 51 countries since 2003. That's a lot of numbers, so let's break it down.
The Google Ad Grant is a completely free $10,000 monthly grant offered to eligible nonprofits in the form of Google ad credits. Besides following Google's eligibility criteria and ongoing compliance requirements, there are no other restrictions your nonprofit must adhere to in order to receive funding.
However, because Google is so generous with its funding, the upkeep and compliance associated with the program can be hefty for nonprofits to maintain. That's where working with a Google Grant agency comes into play. These experts can help you achieve your marketing potential, so you can focus on promoting your mission. Read on to learn more about the benefits of partnering with an agency and four key deciding factors to guide your search!
Why should you partner with a Google Ad Grants agency?
A Google Ad Grant agency is a business composed of experts who help nonprofits manage their Google Ad accounts. So, what's the benefit of partnering with these agencies? You might be set on managing your account all on your own, but before you embark on your management journey by yourself, consider these key agency advantages:
Quick setup. Partnering with an agency can help you get up and running fast. They'll walk you through key eligibility steps and create high-converting ads as soon as your account is approved.
Compliance. Google's compliance requirements can be a little tricky to keep up with, but with an expert's help, you can maintain Google's required 5% click-through rate with ease.
Ongoing optimization. A Google Grant agency will have keen insight into campaign creation and maintenance. With deft tracking and reporting skills, these experts can ensure your campaign is optimized by making timely, informed improvements.
Additional nonprofit time. Managing a Google Ad Grant account can be time-consuming, and with volunteers to train and donors to engage, your nonprofit is likely on a tight schedule. Working with an agency can abundantly free up your time.
Often, Google Ad Grant agencies can also pinpoint blindspots your nonprofit could have missed. For example, your landing pages, such as your donation page, could be missing key elements and lowering your quality score. With an agency partner's help, that page could be spruced up easily to generate a quicker ROI.
Having an agency by your side is incredibly beneficial. So, what should you look for in a partner? Let's review the four defining elements of a reliable agency below.
1. Experience and expertise
Just like any other provider, you want to choose one with a proven track record and a depth of knowledge that will help your nonprofit succeed. Narrow your choice by looking into agencies that align with your nonprofit's goals and have high-performance ratings. You can get a closer look by referencing:
Pricing and criteria. Choose a partner that maintains a fair pricing model and has extensive experience working with organizations similar to yours. Avoid selecting a provider with unnecessary add-ons, and consider scheduling a consultation before making a final decision.
Knowledge of Google's compliance rules and upkeep objectives. Choose a provider that's been Google-certified and well-versed in Google's compliance requirements. That way, you can rest assured that your campaigns are in good hands once they go live.
Client testimonials and case studies. For a more in-depth look at an agency's work, check out their previous clients and testimonials. You can even reach out to clients to get a better understanding of their experience working with an agency you're interested in.
Compare an agency's clients to your organization. Do they have similar missions, audiences, and goals? This is another key indicator that you're on the right track to finding a partner that aligns with your marketing objectives.
2. Relevant services that drive results
Not all Google Ad Grant agencies provide services that will be relevant to your mission and marketing objectives. Reference your goals to be sure the partner you choose has the right features to get you from A to B. These could include:
Application. There are several steps your nonprofit needs to take to apply for the Google grant. They include ensuring eligibility, registering with TechSoup, creating an account, and more. If you're looking to get started quickly, partner with an agency that can walk you through the application process in a timely manner.
Account hygiene. Duplicate, outdated, or unnecessary data can hinder your campaign's success. Select an agency with extensive account hygiene experience to ensure your account stays clean and effective.
Grant reactivation. If your account has been suspended for any reason, the right agency can help you get back on your feet with ease. They'll also generate a new strategy to safeguard against future deactivations or lapses.
A key step of applying for the Google Ad Grants program is ensuring your website is optimized for a valuable user experience. This includes optimizing site navigation, load times, and branding to maximize your conversions. An experienced agency can make the right suggestions to get your site up to par.
3. Thorough campaign strategy
Effective digital marketing of any kind requires a solid campaign strategy, and Google Ad Grant marketing is no exception. Check out each provider's campaign capabilities to ensure their strategy is thorough and applicable to you. This involves digging into services like:
Customization. Each nonprofit has a unique audience and mission. Partner with an agency that knows how to target your demographic and increase engagement without taking a one-size-fits-all approach.
Keyword research. The right keywords are the bridge between you and prospective supporters. However, they can require additional expertise to select high-performing ones that align with Google's restrictions. An agency with keyword experience can help you craft a strategy that yields high returns.
Tracking and reporting. At any given time, you may want to know how your campaign is performing. Partner with an agency that gives you consistent updates and can teach you how to reference your performance easily using a campaign tracking tool such as Google Analytics.
According to Getting Attention's keyword research guide, there are a few other tools you can use to refine your approach. These include Google Trends, Google Search Console, Moz Keyword Explorer, and SEMRush. You want to strike the right balance between keywords with high search volume and low competition, so be sure to choose an agency that uses extensive research tools like these to guide your campaign strategy.
4. Flexibility and scalability
Your nonprofit will grow and adapt over time whether you choose to tackle your largest capital campaign yet or fill more open volunteer positions, you'll want to find an agency that can adapt alongside you. This means you'll want to select an agency with services created to meet your changing needs and adapt to the evolving digital landscape.
Key features that can future-proof your nonprofit marketing include advanced analytics that show trends and patterns, reliable campaign strategies that can be shifted to target a new audience segment, and an adept Google policy understanding that can adapt to any new requirements. An agency with these practices will be able to provide valuable services that evolve with your needs.
---
The Google Ad Grant is a secret weapon every nonprofit should have in its marketing arsenal. An expert Google Ad Grant Agency can help you make the most of it with high-converting marketing campaigns that connect you with more supporters. Use the above recommendations to identify one that complements your nonprofit's goals.
https://www.fundraisingletters.org/wp-content/uploads/Getting-Attention_Fundraising-Letters_4-Key-Qualities-to-Look-for-in-a-Google-Ad-Grants-Agency-Feature.jpg
300
650
Rafi
https://www.fundraisingletters.org/wp-content/uploads/Untitled-design-3-300x138.png
Rafi
2023-09-28 23:58:29
2023-09-28 23:58:29
4 Key Qualities to Look for in a Google Ad Grant Agency