Taking Nonprofit Marketing to the Next Level: 4 Strategies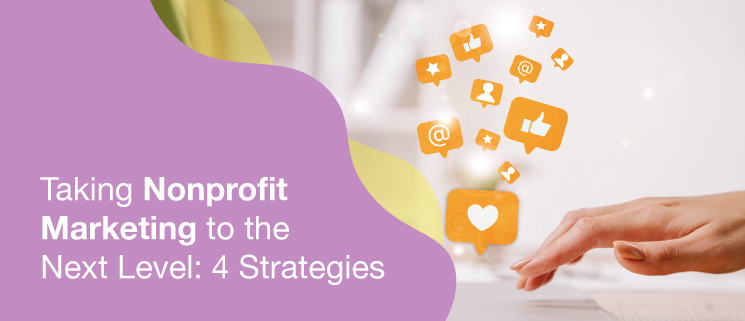 Growing your nonprofit requires regularly reaching out to your current donors and grabbing the attention of new potential supporters, whether it be to spread awareness about your programs, promote an upcoming event, or request support for an ongoing advocacy campaign. As such, marketing is a core skill for nonprofit professionals, and routinely analyzing and updating your approach is necessary for maintaining high levels of engagement.
Nonprofit marketing has evolved over the last few years, and modern organizations understand the importance of a strong digital strategy. This means knowing what platforms to use, how to grab supporters' attention online, and which strategies work best for online outreach.
To help your nonprofit improve your digital marketing, this guide will explore four strategies for targeting supporters, spreading awareness, and maintaining an online community.
1. Segment your supporters.
The more closely you can align your messages with your supporters' interests, the more effective your marketing campaigns will be. Start preparing your marketing campaign by looking at your current supporters' data. This includes their demographic information, preferred communication channels, and past initiatives and campaigns they've engaged with.
Use this information to create supporter segments in your constituent relationship manager (CRM). Some CRMs like Salesforce NPSP are highly customizable, allowing you to make detailed emailing lists based on segments, record data about new supporters in order to place them in the appropriate segment, and create messaging cadences for each segment.
After determining your segments, use them to create personas. Personas are hypothetical individuals that stand in for an entire group of supporters. They are a useful marketing tool as it is generally easier to craft messages that will appeal to one person rather than an entire audience.
Design your personas by examining each of your supporter segments. Determine what their demographic information, motivations, and barriers to give, as well as name, occupation, location, marital status, and any other details that will help your team create marketing messages. From there, use these personas as stand-ins for segments when determining what types of messages will most appeal to them.
2. Launch a multi-channel campaign.
Few supporters will convert and make a donation the first time they see a message from your nonprofit. Attracting new supporters requires building up brand recognition through multiple messages on various platforms. As such, your nonprofit should launch a multi-channel marketing campaign.
Multi-channel campaigns require having a strong understanding of each platform you choose to leverage. This includes understanding who the primary users are, what type of content succeeds, and how to attract attention.
For instance, your email campaigns are an opportunity to provide detailed promotions for your events, blog content, and fundraisers. By contrast, on most social media sites, you will likely have less space to explain your cause. Additionally, consider how you can promote the same opportunity across multiple social media platforms. On Facebook, you might post about an upcoming event by using an eye-catching image and a schedule of your planned activities, but on Instagram or TikTok, you may create a short video instead.
When launching a multi-channel campaign, ensure you have the right tools to help you manage your content and marketing strategy. Assess your current software for tools that that allow you to track online engagement and quickly create professional emails. If your nonprofit lacks tools with needed features, consider asking other professionals in your field for a referral or explore recommendations online. Some nonprofits may need to invest in an entirely new platform, while nonprofits using flexible software like Salesforce and Blackbaud may be able to get the features they need with just a new add-on.
3. Focus on SEO.
Supporters looking for causes to give to will often start by entering a query in a search engine. You can improve the chances that they will discover your nonprofit by focusing on search engine optimization (SEO) for your online resources. SEO marketing takes time to develop, but it can result in increased traffic to your website and help build an online community.
SEO requires developing your website to be search engine friendly. A few ways you can do this include:
Choose specific keywords with low competition. Choose keywords that are closely related to your cause and are terms your supporters are likely to search for. Additionally, consider what keywords you have the highest potential to rank for by selecting terms with low competition. Broad keywords such as "wildlife protection" might align with your nonprofit's cause, but large, established organizations will be challenging to compete with for this competitive term.
Create high-quality, keyword optimized content. After selecting your keyword, begin creating content focused on that topic. When writing this content, add the keyword naturally into the headers and body of your content, but avoid keyword stuffing. Keyword stuffing is when websites use the same keyword an unnatural number of times in an attempt to rank for that term. Keyword-stuffed content tends to be low-value and will result in fewer conversations. Additionally, search engines will penalize websites that are reported for keyword stuffing.
Post regularly. Websites that regularly post new content are seen by search engines as active organizations that provide new and relevant information. To help your website rank, make an effort to post new content every week or so. This content can include blog posts, research reports, news updates, or any other type of content that your audience will find valuable and interesting.
These tips will help you gain organic traffic—visitors who find your website by clicking on links that appear in their search results. To give your website an immediate boost, you can also explore paid traffic by taking out search engine ads. These are the links at the top of a search results page marked "ad."
These ads can be expensive, but several search engines offer grant programs for nonprofits. The most popular of these programs is the Google Ad Grant. Double the Donation's quick guide to the Google Ad Grant explains that one of the first steps to earning a Google Grant is having a high-quality website. This means optimizing your content that focuses on the keywords and topics you will buy search engine page ads for. Essentially, whether you're interested in pursuing an organic or paid SEO strategy, your first step will be creating valuable content for potential supporters to engage with.
4. Partner with influencers.
Marketing is most effective when it comes from a trusted source. For instance, most people are more likely to consider donating to a nonprofit a friend recommended than one they have only heard about through online ads. As such, you can improve your marketing by partnering with social media influencers who are trusted by large fan base.
There are three main types of nonprofit influencers to consider when determining who to partner with. These types include:
Major influencers. Major influencers are celebrities and well known figures with significant follower counts of over 1 million. Given their large fan bases, partnering with these influencers can quickly spread awareness to thousands of people at once. However, they are also often harder to reach due to busy schedules and many other organizations requesting partnerships.
Micro-celebrities. Micro-celebrities are social media personalities with 5k-50k followers. With their notable but significantly smaller followings, they have close relationships with their community and are often easier to get in touch with.
Superfans. Superfans are individuals in your community who are deeply dedicated to your nonprofit and excited to help you in any way. These individuals tend to be long-term supporters and those who have a personal connection to your target issue. Superfans usually have limited followings, but they are already invested in your cause and willing to reach out to their networks on your behalf.
Keep in mind that when deciding who to partner with, an influencer with a larger audience is not necessarily always the best choice. For example, an influencer with a smaller fan base may be a respected figure in a field that aligns with your nonprofit's, meaning their followers likely already have an interest in causes like yours. In addition, superfans are the backbone of most marketing efforts, voluntarily spreading your messages and providing positive word-of-mouth marketing.
---
Effective marketing requires continually reviewing your process, identifying what is working well and improvement opportunities, then taking steps to evolve your strategy. When planning your next outreach campaign, consider your specific audience and where you can reach them, as well as how you can make your website and content more readily available to interested supporters.
https://www.fundraisingletters.org/wp-content/uploads/DNL-OmniMedia_Fundraising-Letters_Taking-Nonprofit-Marketing-to-the-Next-Level-4-Strategies_Feature.jpg
330
745
Fundraising Letters
https://www.fundraisingletters.org/wp-content/uploads/Fundraising-Letters-by-NXUnite-eCardWidget-logo_New-Crop.svg
Fundraising Letters
2023-02-16 21:34:06
2023-03-16 20:10:14
Taking Nonprofit Marketing to the Next Level: 4 Strategies