Volunteer Appreciation: 22 Ways to Celebrate Volunteerism

Your volunteers spend time pursuing your mission because they want to make a difference. They offer their skills, knowledge, and free time all because they want to see your organization succeed. They do so selflessly, but that doesn't mean they don't want your nonprofit to show volunteer appreciation.
Volunteers hold up the foundation of civil society by contributing in invaluable ways. Their hard work equates to an estimated $31.80 per hour, according to a recent Independent Sector volunteer report. In other words, keeping volunteers happy can have an incredible impact on your cause.
As a volunteer manager, it's up to you to come up with memorable volunteer appreciation ideas that inspire people to stick around. It takes a little creativity to make your volunteer program stand out, though. If you're running low on creative gifts, you've come to the right place. We'll share everything you need to know about the art of volunteer appreciation and more than 20 standout ideas. Here's what you'll explore throughout this guide:
By the end of this guide, you'll have everything you need to communicate that you genuinely value your volunteers' hard work. If you can't wait to get started, let's dive in!


The Volunteer Appreciation Fundamentals
What does it mean to recognize volunteers, and why should you do it? We'll answer all of your burning questions below. That way, you can choose the right volunteer appreciation gifts that will resonate with supporters.
What Is Volunteer Appreciation?
Volunteer appreciation is the act of expressing gratitude and acknowledging the individuals who freely give their time, skills, and efforts to a charitable cause. Acknowledgment can be in the form of:
A physical gift
A phone call
An event
An experience
It's up to your nonprofit to determine which methods will communicate gratitude. A nonprofit that proactively thanks volunteers fosters a positive environment in which volunteers want to work. Doing so means you're striving to foster a sense of belonging and continued engagement by highlighting volunteers' vital roles in the success of the mission.
Why Does Volunteer Recognition Matter?
For those who are new to the volunteer manager role, expressing gratitude through grand gestures might seem silly. You might be wondering, "Can't I just send a mass email to all my volunteers saying thanks?" You certainly can, but it'll be a whole lot more meaningful if you put thought behind your approach to volunteer appreciation!
Going above and beyond with your volunteer appreciation gifts means you can experience these benefits: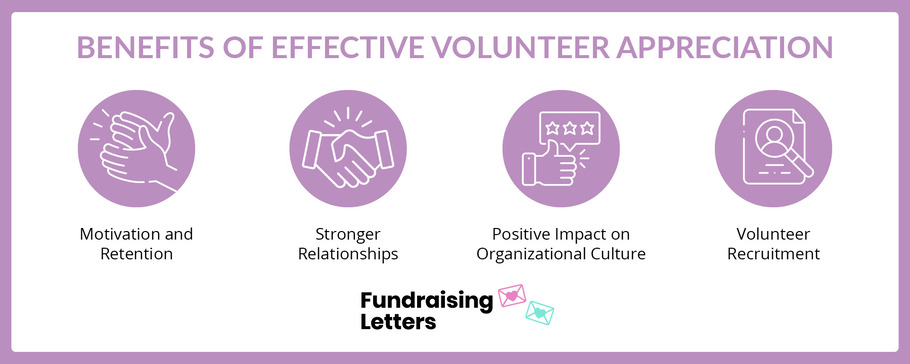 Motivation and Retention: Just like your fundraising team implements donor retention strategies, you need to retain volunteers. Fun volunteer appreciation ideas will motivate your volunteers to stick around and do their best work since they'll see you appreciate it.
Stronger Relationships: When you show that you value someone's hard work, you'll grow that individual's loyalty to your organization.
Positive Impact on Organizational Culture: Make your nonprofit a happy place for people to come together and make a difference. You'll develop an inclusive and appreciative environment where people want to contribute.
Volunteer Recruitment: By fostering a culture of gratitude, the word will get around to prospective volunteers. They'll see just how much your value those who contribute to your cause, inspiring them to get on board, too.
Choosing creative and memorable volunteer appreciation gifts means you can transform your nonprofit's volunteer program. In turn, you'll multiply your impact and make more substantial strides toward your mission.
How Can You Make Your Volunteer Appreciation Efforts Memorable?
You don't have to throw a full-blown volunteer appreciation event every month to say thanks in a memorable way. Although, those events can be a blast! Giving recognition can be as simple as sending a personalized letter or ringing them up on the phone.
To make any volunteer appreciation idea stand out, try out these strategies:
Be creative. Come up with memorable volunteer appreciation ideas. Any nonprofit can send a mass thank-you email. Leveraging strategies like personalized eCards can take traditional methods up a notch.
Be prompt. If you wait too long to reach out, that communicates that you don't genuinely value their contributions. By the time they hear from you, they may forget they even volunteered for your nonprofit.
Personalize the gift when possible. As explained in our donor recognition guide, you should tailor communications to each individual. Always be as specific as possible about the positive change their work has made. For example, if they worked one-on-one with at-risk youth, mention those kids or have them sign their names to the gift.
Bearing these best practices in mind, you can transform any volunteer appreciation gift into a memorable token of gratitude.
How Do You Recognize and Reward Volunteers?
It all depends on each volunteer and your nonprofit. There are plenty of great volunteer appreciation ideas out there, whether you want to send a tangible gift, ring them up to say thanks, or provide a memorable experience.
We recommend checking your nonprofit CRM for individuals' preferences any time you want to say thanks. Kindful's nonprofit CRM guide explains that you can segment supporters using specific filters and group them based on shared characteristics. That way, you can easily determine whether they want public or private recognition based on their past interactions with your team.

Our Favorite Volunteer Appreciation Ideas
With all that great background knowledge in mind, let's move forward with some creative ideas we think you (and your volunteers) will love!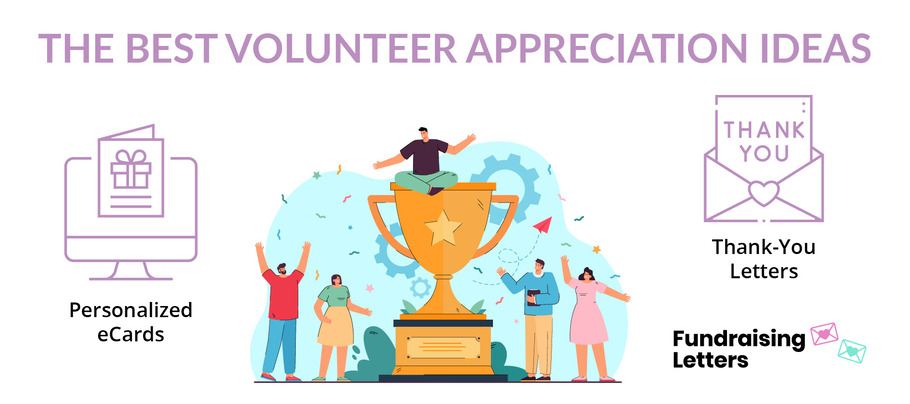 Thank-You eCards
If you've ever received a thank-you card, you know just how special greeting cards can be to the recipient. Now, you can use that same strategy to thank your volunteers. Even better, you can do so digitally with thank-you eCards for charities!
Personalized eCards are an interactive, inexpensive, and environmentally-friendly way to say thanks to your volunteers. You can have your team, beneficiaries, or other volunteers send them, making them perfect for peer-to-peer recognition.
For some real-world inspiration, check out this volunteer appreciation eCard campaign from Youth For Understanding: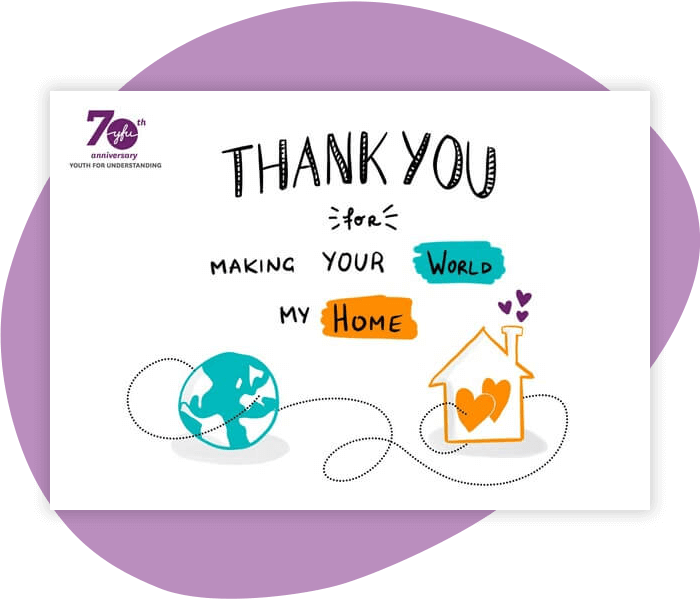 They designed a collection of eCards like this one, enabling youth impacted by their program to reconnect with former volunteers, mentors, and staff members.
To replicate this volunteer appreciation gift, all you need is a platform to power your efforts. We recommend eCardWidget, a leader in the digital greeting card space. Their user-friendly platform equips you with everything you need to:
Design custom eCards whether you want to use a template or start from scratch. Easily incorporate your nonprofit's branding by uploading your logo, choosing from an array of fonts, and incorporating your brand's color scheme.
Upload eCards to your site using the convenient plugin, or share your eCard collection from eCardWidget using a link.
Send eCards through a variety of outlets like email, social media, and text. That way, you can adhere to volunteers' communication preferences.
Trusted by more than 4,000 organizations, eCardWidget is the ultimate resource for your volunteer appreciation needs! Not to mention, nonprofit eCards have tons of great other uses, whether you want to sell them or use them to invite people to events.

Thank-You Letters
Looking for a classic volunteer appreciation idea? Look no further than a thank-you letter.
Writing a letter to say thanks is one of our all-time favorite strategies. It offers plenty of personalization opportunities, and it shows that you spent time drafting it, making it meaningful to the recipient.
Our guide to crafting volunteer thank-you letters shares a few key elements you should always include:
A salutation: Address the volunteer by name for a personal touch.
Why you're reaching out: Let volunteers know you want to thank them for all of their help right off the bat.
Specific details regarding their impact: Be specific about what they contributed and how it impacted your beneficiaries.
Upcoming opportunities: Encourage them to join you at one of your next volunteer events.
Contact information: Let them know you're happy to answer any questions about upcoming opportunities by providing contact information for a specific team member.
A closing: Close the letter genuinely by saying you hope to see them again soon or that you wish them a happy holiday season if it's around that time of year.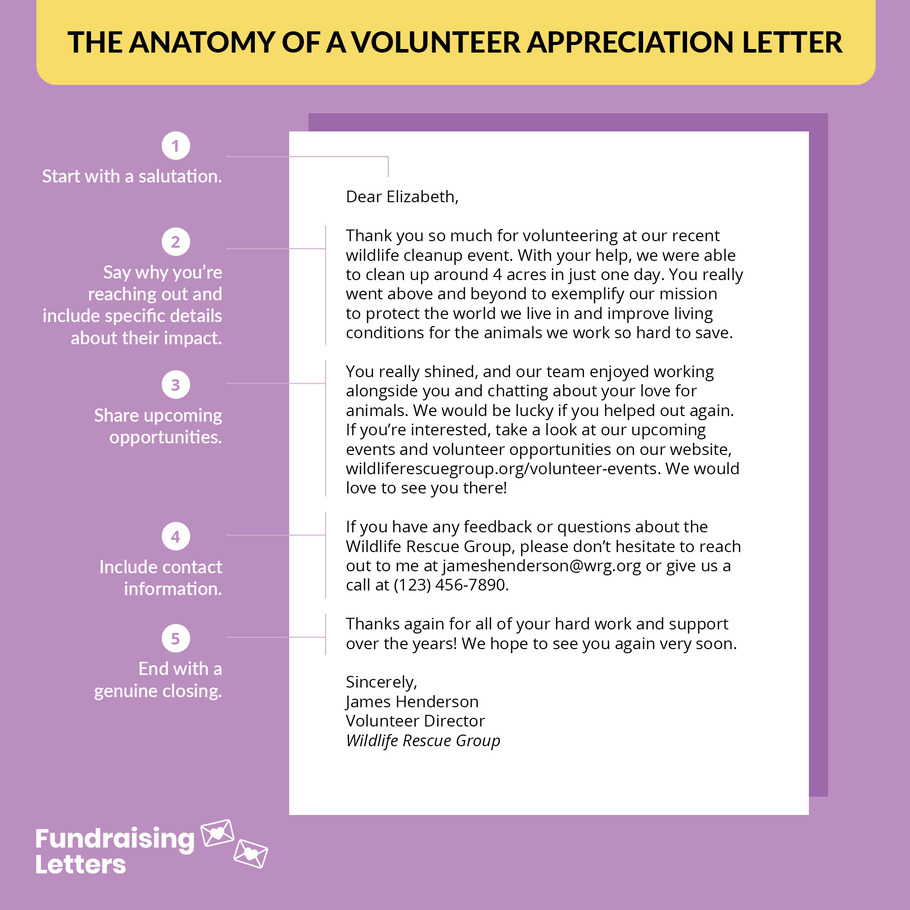 Whether you send it via direct mail or email, make sure to include those details in your letters. That way, your gratitude will shine through!

Volunteer Appreciation Event Ideas
Get some face-to-face time with your volunteers and go all out by throwing a full-blown volunteer appreciation event. Your supporters will love coming together, whether you're meeting for dinner, a family movie night, or a casual happy hour.
As a bonus, you can use your eCard platform to create online invitations. Volunteers will be thrilled to receive a custom invitation in their inbox. Just be sure to include RSVP details and explain the purpose of the event (to say thanks, of course!).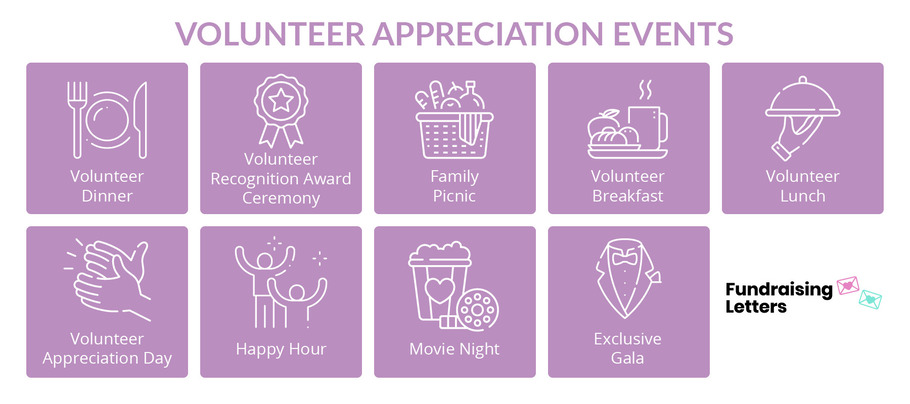 Volunteer Appreciation Dinner
Host a special dinner to honor and celebrate your volunteers. You can either make reservations at a local spot or host it at a different venue and line up catering.
Either way, you'll want to provide a delicious meal, fun entertainment, and speeches recognizing volunteers' contributions.
Volunteer Recognition Award Ceremony
Organize an awards ceremony where you recognize your nonprofit's outstanding volunteers. You can create award titles like:
Volunteer of the Year
Rising Star Volunteer
Best Volunteer Ambassador
Exemplary Dedication Award
Most Infectious Volunteer Spirit
Then, present personalized certificates, trophies, or plaques inscribed with their names. Supporters, staff, and beneficiaries can vote on the different awards, making them a meaningful token of volunteer appreciation.
Family Picnic
Plan a fun outdoor picnic where volunteers can bring their families for a day filled with food, games, and activities. Choose a warm day and gather at a local park.
Perfect for relaxing, this volunteer appreciation event will provide a casual way to interact with one another and your organization.
Volunteer Appreciation Breakfast
Start the day off right with a breakfast event where you honor volunteers. Meet up before a volunteer event, or choose a weekend morning for everyone to gather.
Then, offer a range of breakfast options and deliver heartfelt speeches to say thanks.
Volunteers will enjoy filling up on their favorite breakfast foods like pancakes, bacon, eggs, and muffins thanks to your nonprofit. After all, breakfast is the most important meal of the day!
Volunteer Appreciation Lunch
If breakfast or dinner isn't your jam, why not try a luncheon?
Put together a catered luncheon event where you treat volunteers to a delicious meal, engaging conversations, and uplifting speeches. Be sure to work in time to say thanks and highlight the impact of their contributions.
Volunteer Appreciation Day
If a meal isn't enough, dedicate an entire day to recognizing volunteers' outstanding accomplishments.
Bring everyone together for various activities, workshops, and team-building exercises. This is a great camaraderie-building and volunteer appreciation event in one!
Happy Hour
Some volunteers might love the chance to chat with your nonprofit's team or network with others outside of volunteer opportunities.
Organize a casual after-work happy hour event at a local venue or at your organization's office. Everyone can enjoy free drinks, snacks, and socializing.
Not only is this a wonderful volunteer appreciation event idea, but it also serves as an opportunity for networking and building camaraderie among volunteers.
Movie Night
Arrange a special movie night exclusively for your volunteers. Create a cozy atmosphere and stream an uplifting and inspiring movie.
You have a few options when choosing a venue for this volunteer appreciation event:
Rent a room at your local movie theater.
Create a cozy setup in your organization's office.
Set up a screen at a local park or other public venue.
Stream it online for volunteers to enjoy in the comfort of their homes.
Be sure to offer refreshments like popcorn and candy for your volunteers to snack on during the film. If you're going virtual, you can always drop off movie snacks at volunteers' houses. Bonus points if the movie relates to your cause!
Volunteer Gala
Plan a grand gala to celebrate volunteers' dedication and impact on your cause. Make the night extra special by:
Featuring live performances
Offering a catered formal dinner
Lining up live performances
Setting up a dance floor
The end result will be an elegant and memorable evening. Even if you don't host a separate event exclusively for volunteers, you can provide free entry to your annual fundraising gala and dedicate part of the night to expressing gratitude.

Inexpensive Volunteer Appreciation Gift Ideas
Not every nonprofit has enough room in the budget to throw volunteer appreciation events, and that's okay! Thankfully, there are plenty of cost-effective ideas that are perfect for nonprofits working on a budget.
Remember, the absolute most important aspect of volunteer appreciation is ingenuity. Even simple gestures and heartfelt messages can leave a positive impression and make volunteers feel valued and appreciated.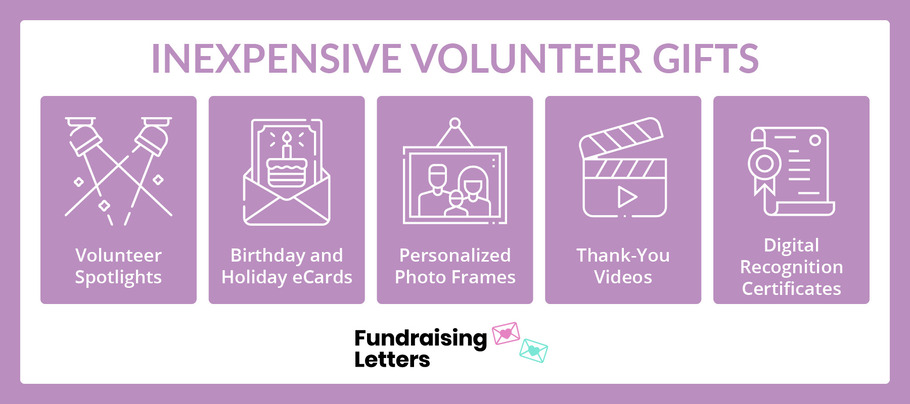 Volunteer Spotlights
Showcase your standout volunteers in your nonprofit newsletter or on your nonprofit's social media. To do this, create a 'Volunteer of the Month' spotlight in which you feature someone who made an incredible impact over the past few weeks.
In your spotlight, include details like:
Their accomplishments and the impact they've made
A quote from them or from beneficiaries they impacted
A picture of them, either smiling or hard at work
Other volunteers will see this and have the chance to offer their congratulations. Plus, it may make them step up their commitment, striving to be Volunteer of the Month next time around.
Birthday and Holiday Cards
Digital greeting cards aren't just for saying thank you. Send eCards on special occasions to show volunteers you're thinking of them. Send holiday eCards, birthday eCards, and other themed cards to celebrate important days.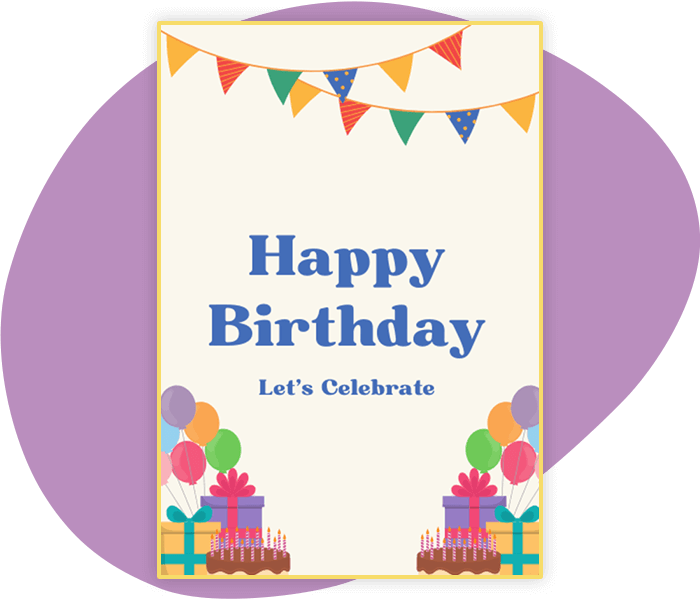 This will keep your cause top of mind and show recipients that your nonprofit's team cares about them on a personal level.
Bonus! Explore our digital cards guide to learn different eCard uses that'll create powerful engagement opportunities and push your mission forward.

Personalized Photo Frames
Custom photo frames can be a heartfelt volunteer appreciation gift. Personalize each frame with the volunteer's name, your nonprofit's name, or a special message. Doing so adds a personal touch that makes the gift more meaningful.
Volunteers can use their frames to showcase special memories from serving your nonprofit, whether it's a group photo or a snapshot of them in action.
Each time they look at the frame, they'll be reminded of the time they spent with your nonprofit. Perfect for displaying at home or in their offices, photo frames are tangible, lasting tokens of volunteer appreciation that honor their contributions and dedication.
Thank-You Videos
For a touching yet inexpensive volunteer appreciation gift idea, create personalized videos expressing gratitude for each volunteer.
Tectonic Video's guide to the best nonprofit videos explains that story videos help demonstrate the impact of your mission, taking viewers on an emotional journey through your nonprofit. We recommend specifically creating testimonial videos in which your staff or beneficiaries speak directly to volunteers about the difference they've made.
After all, nothing conveys impact quite like visual storytelling. Don't just tell them about their impact; show them!
Digital Recognition Certificates
If you don't have time to host an awards ceremony, create customized certificates to recognize your volunteers' efforts instead. Include details like the number of hours they've contributed or the projects they've worked on.
You can use online templates or design your own to recognize individuals' contributions and highlight specific achievements. By sending them virtually, you'll save on printing and postage costs, too! Sending them digitally transforms recognition certificates into an incredibly inexpensive volunteer appreciation gift idea.

Other Volunteer Appreciation Ideas For Nonprofits
Still not sure you've found the perfect volunteer appreciation idea? Don't worry; we've got plenty of other ideas!
Here are a handful of other creative gifts that can go a long way in communicating gratitude.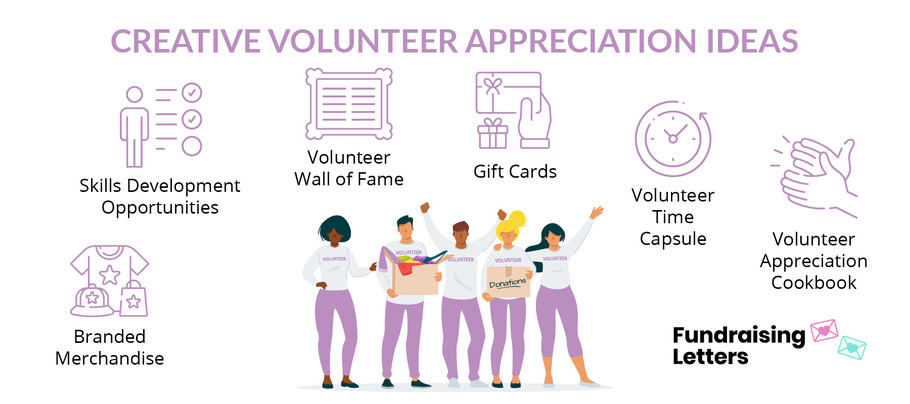 Branded Merchandise
Give your dedicated supporters a tangible token of volunteer appreciation by giving them free merchandise. Whether you have leftovers from a recent fundraiser or create a special line of merchandise, volunteers might love:
Apparel like t-shirts and hats
Tote bags
Everyday items like mugs and keychains
When the merchandise incorporates elements of your nonprofit brand, this also works as free marketing. They'll wear your apparel or use your mugs, keychains, or whatever else out in public. Strangers may strike up a conversation with them to learn more, transforming this into a super smart nonprofit marketing idea.
Skills Development Opportunities
People often volunteer to grow their professional skills or put their existing ones into practice. Those same volunteers might enjoy skills development opportunities such as:
Virtual Workshops or Webinars: Organize exclusive virtual workshops or webinars on topics that interest your volunteers. It could be a skill-building session, a guest speaker series, or a panel discussion related to your organization's mission. This provides them with continued learning opportunities and shows that their contributions are valued.
A Volunteer Mentorship Program: Pair experienced volunteers with new or less-experienced volunteers. By offering a peer mentorship program, you'll recognize the expertise of long-term volunteers while fostering a sense of community and support.
Either way, encouraging volunteers to expand their skills provides invaluable learning opportunities.
Volunteer Wall of Fame
Create a dedicated wall or bulletin board in your organization's facilities where you showcase volunteers' photos and stories.
This will serve as a visual recognition of their contributions while also livening up your workspace.
Gift Cards
Send volunteers digital gift cards to their favorite stores, popular coffee shops, and other local businesses. Then, they can treat themselves to something they enjoy, making it a fantastic way to express volunteer appreciation.
Chances are, there are some local businesses that would jump at the opportunity to exercise corporate social responsibility, so you wouldn't have to pay for these out of pocket. These businesses might be willing to give you free gift cards or at least offer them at discounted rates.
Bonus! Use our free sponsorship letter templates to create personalized outreach that will help kickstart relationships with businesses.
Volunteer Time Capsule
Show off your lasting commitment to expressing volunteer appreciation with a time capsule. Fill the time capsule with meaningful items, photos, and messages from volunteers.
Then, seal it and open it during a future event or milestone celebration. This is a great way to remind everyone of the collective impact achieved thanks to their support over the years.
Volunteer Appreciation Cookbook
This gift idea takes a collective effort that's worth the output!
Collect volunteers' favorite recipes. Then, compile them into a volunteer appreciation cookbook. You can either share the cookbook digitally or print copies to distribute.
Volunteers will have a lifetime of recipes thanks to your team!
The Lasting Impact of Effective Volunteer Appreciation
Your volunteers are the heart and soul of your organization. If we had to guess, you want them to stick around for years to come. Make sure their selfless work doesn't go unnoticed.
Spending time choosing the right volunteer appreciation gifts means you can effectively communicate how much you value your volunteers.
Remember, it doesn't matter if you throw a lavish gala or send digital certificates. So long as you make it unique and memorable, they'll recognize the effort you put in. In turn, their loyalty will grow, and they'll be ecstatic to spend time pursuing your mission.
While you continue pondering your plans, check out some of these additional resources we pulled together: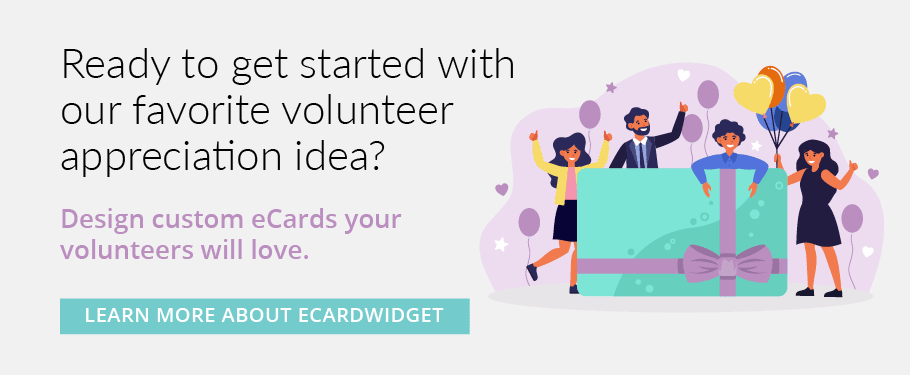 https://www.fundraisingletters.org/wp-content/uploads/Volunteer-Appreciation_Feature.jpg
400
910
Erin Toland
https://www.fundraisingletters.org/wp-content/uploads/Fundraising-Letters-by-NXUnite-eCardWidget-logo_New-Crop.svg
Erin Toland
2023-06-08 13:22:31
2023-06-08 13:22:31
Volunteer Appreciation: 22 Ways to Celebrate Volunteerism