How to Raise Money For Your Animal Shelter: 4 Ideas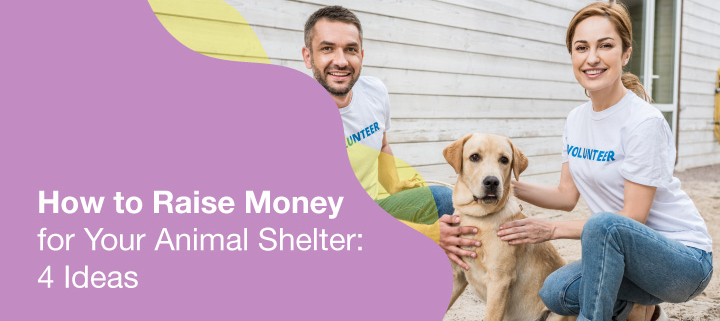 As an animal shelter owner, advocate, or volunteer, it's no secret that you're passionate about ensuring the animals in your care are safe, healthy, and suitable for adoption. But to make a significant impact on the lives of your furry friends, you need access to ample resources. Organizing a fundraiser and making donation requests can help you raise awareness for your cause, drive meaningful support, and protect more pets.
In this guide, we'll explore four fundraising ideas so that animal shelters like yours can continue making a difference well into the future.
1. Leverage crowdfunding.
Crowdfunding relies on a wide variety of donors making small to midsize gifts online. Unlike traditional fundraising, which requires you to physically sift through potential donors before starting the outreach process, crowdfunding connects you to thousands of potential donors with no physical meetings required. All you have to do is present your cause in a compelling way that inspires people to give and share the fundraiser with their peers.
For the most effective crowdfunding strategy, follow these steps:
Choose the right crowdfunding platform. There are countless crowdfunding platforms that you can use to host your fundraiser, the most popular being GoFundMe. Conduct research into platform fees and restrictions so that you know you're making the right decision for your organization.
Create a crowdfunding page. Create a donation page through your chosen platform with information about your cause and the purpose of your fundraiser. Include photos of the animals and testimonials to tug at people's heartstrings and get them invested in your cause.
Get specific about your need. Narrow the focus of your fundraiser, explaining how much money you need and what it will go towards. People are more likely to contribute when they know their gift will go toward something meaningful and specific. For example, rather than crowdfunding for your shelter as a whole, you might raise money for an animal's vet bills or for renovating your kennels.
Spread the word. Include a link to your crowdfunding page in your marketing assets and encourage supporters to share the page with their personal networks, using a strong call-to-action like "Your one-time gift of $20 can help dogs like Daisy live a happy and healthy life."
This process is an effective, low-pressure way for people to contribute to your shelter on their own terms. When done correctly, the combination of gifts will add up quickly and help you reach your fundraising goals.
2. Launch a social media campaign.
Social media is an easy and effective way to connect with donors, adoptees, and volunteers. It allows potential supporters to learn more about your organization, engage with success stories, and donate — all within a few seconds.
To create a strong social media presence, it's important to cater your content to each platform, including:
Twitter: Because of its strict character limit, Twitter is ideal for sharing quick updates about your shelter, fundraising campaigns, and the adoption process. You can also start a hashtag campaign using a catchy tagline like #AdoptDon'tShop. This will help extend your reach and drive traffic to your account.
Instagram: With features like reels and stories, Instagram is all about visual media. Allow the animals in your care to take center stage through photos and videos. A simple before-and-after picture of a freshly groomed dog can garner meaningful support.
Facebook: With almost three billion users of all ages, Facebook represents an opportunity to gain widespread attention. Share long-form success stories alongside photos of adoptable pets and a link to your fundraising page.
TikTok: If you want to target the younger generation, look no further than TikTok. In addition to posting potentially viral video content, you can use a feature called "Donation Stickers" to encourage users to make donations directly in the app.
Consider using Facebook, Instagram, and TikTok to live stream a day in the life of a shelter volunteer or staff member. This gives supporters a behind-the-scenes look at how your organization operates and how adoptable pets behave. Set up a donation form for the live stream or use mobile fundraising to ask supporters to give while they watch.
3. Host a fundraising event.
Fundraising events allow you to cultivate support for your shelter in an engaging and memorable format. Once you've determined that hosting an event is the best approach to raising money for your organization, narrow down the focus and type of your intended event.
Here are some popular animal shelter fundraising events to get you started:
Sponsor-a-pet fundraiser: For a small, monthly donation, people can sponsor an animal that has been in the shelter longer than others or has medical issues that require additional funding. Send your pet sponsors regular updates on how the animal is doing, and what their personality is like, and encourage in-person visits. That way, they can connect emotionally with the animal and feel more inclined to adopt or increase their level of giving.
Virtual gala: Virtual galas are inexpensive and allow you to reach larger audiences who may not be in your immediate area. Share the link to a live stream and include a meet and greet of adoptable pets, live entertainment, or a virtual silent auction for those tuning in.
Pet-friendly social gathering: Host an event at a local park and encourage pet owners to socialize with their animals. Charge for drinks and food to raise funds for your cause or set up an information booth where supporters can learn about your cause and meet a few animals up for adoption.
Gingr's guide to payment processing suggests that, at each event, you include a virtual payment option, whether that be donation kiosks, text-to-give, or mobile donation forms. This encourages attendees to give beyond their ticket or registration price.
Even if an attendee chooses not to contribute, you should follow up with a thank-you letter, email, or phone call expressing your appreciation for their participation and commitment to your cause. Such outreach can help cultivate a meaningful relationship that lasts long after the event ends.
4. Participate in donation matching.
With donation matching, you can potentially double the donations that your shelter receives. Here's how it works: An employee who works for a company with a matching gift program donates to your shelter. The employer then matches that gift, generally at a 1-to-1 ratio.
According to matching gift statistics from 360MatchPro, an estimated $3 billion is donated through matching gift programs annually. This number could be even higher if your animal shelter decides to actively pursue this fundraising channel. Tap into the power of matching gifts by sending prospective supporters a matching gift letter that includes information about how to research if their employer has a matching gift program.
Keep in mind that these fundraising ideas are a jumping-off point for your animal shelter. Adapt them as needed to fit your needs at a given time. From launching a crowdfunding campaign to maintaining a strong social media presence, an effective fundraising strategy will help your organization gain the funding necessary to provide exceptional care to animals in need.
https://www.fundraisingletters.org/wp-content/uploads/Gingr_Fundraising-Letters_How-to-Raise-Money-for-Your-Animal-Shelter-4-Ideas_Feature.jpg
345
720
Fundraising Letters
https://www.fundraisingletters.org/wp-content/uploads/Fundraising-Letters-by-NXUnite-eCardWidget-logo_New-Crop.svg
Fundraising Letters
2023-01-26 19:29:07
2023-03-16 20:10:20
How to Raise Money For Your Animal Shelter: 4 Ideas