Understanding Nonprofit Web Compliance: A Quick Guide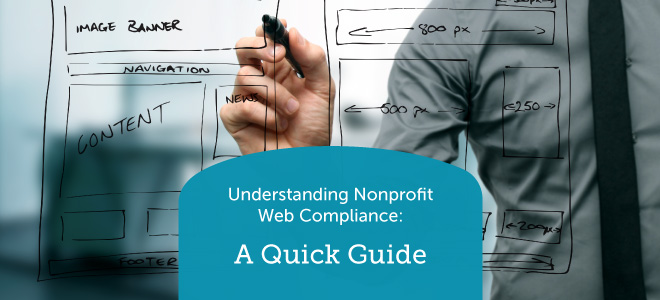 As an experienced fundraiser, your days are probably filled with sending out donation request letters and brainstorming fun and new campaign ideas. With virtual fundraising rising in popularity (and necessity), your nonprofit's website is likely the host of most of your engagement and fundraising tasks.
A nonprofit website is a key tool to increase donations and connect with your supporters. It's also likely the first place people go to learn more about your organization. Besides having key design elements in place and regularly updating your content, your website should also ideally be fully accessible and ADA (Americans with Disabilities Act) compliant. 
Here at Cornershop Creative, we work closely with nonprofits to help with website design, custom development, and site maintenance. We've put together this quick guide to understanding nonprofit web compliance in order to help leaders like you create the best website and ensure you're not glossing over any essentials. Here's what we'll be answering:
What is nonprofit web compliance and accessibility?

Why is full nonprofit web compliance important?

What are some quick ways you can increase your website's accessibility?
Nonprofit web compliance and accessibility can help your organization in more ways than one, from expanding your online audience to increasing donation conversions. Ready to learn more? Let's begin.

1. What is nonprofit web compliance and accessibility?
To increase your online fundraising efforts, you're going to need a fully compliant and accessible nonprofit website. 
Put simply, web accessibility is the idea that the internet should be easily used by all people, no matter their location, device, language, or ability. This includes more than just ease-of-use and clear navigation. If the internet (and your website) is fully accessible, then people all over the online world with diverse abilities and devices should be able to engage with it. 
Without accessibility in mind, websites and other online apps can inadvertently exclude entire groups of people. For instance, a website purely dependent on streaming videos without any added text elements isn't fully accessible to deaf people. To increase accessibility, platforms like Netflix have built subtitles and audio descriptions into their content.
If you want to ensure your own website is accessible, you must consider the needs of all types of audiences, as well as make sure that your site is ADA compliant. Nonprofit web compliance ensures that organizations and their websites are aware of and comply with relevant laws— in this case with the Americans With Disabilities Act (ADA). 
The ADA became law in 1990 to prohibit discrimination against individuals with disabilities and requires all "public accommodations" to be fully accessible. Physical offices and facilities of nonprofits that serve the public fall under this category, but legal cases have increasingly considered websites to be public accommodations, too. In fact, the 2019 Ninth Circuit Court of Appeals stated that some websites (including nonprofits) may actually violate the ADA if they are not accessible to those with visual, auditory, and other disabilities.
It's imperative that your nonprofit and website keep the ADA in mind when designing or updating your website. If your nonprofit's website is brought under scrutiny and is found to violate the ADA, you may even face legal action. 
To ensure your own website is ADA compliant, look to the Web Content Accessibility Guidelines (WCAG), a set of usability standards developed by the World Wide Web Consortium.  With three levels of compliance (A, AA, and AAA), your website needs to adhere at least to the AA level to be considered legally compliant. We'll touch more on the WCAG later on, but for more information on exactly what the compliance requirements entail, we recommend heading over to their official website.

2. Why is full nonprofit web compliance important?
Besides the fact that a fully compliant website could be legally required for your nonprofit in some circumstances, there are other benefits that come with it. It can help expand your online fundraising efforts and widen your reach to larger audiences of passionate prospects.
Consider the following additional benefits. Full nonprofit web compliance:
Makes your website usable on all devices.

The best nonprofit websites

ensure that anyone can easily engage with them, no matter their device. After all, how your content displays might differ per screen size or lighting setting. With

96% of Americans

owning a smartphone, your website should

definitely

be usable on mobile screens.

Fosters a more inclusive culture

. With visitors of all abilities able to interact with your website, you're advocating for a more inclusive and diverse culture. This not only refers to your website community, but for the culture of your entire organization. Think of your website as your virtual front desk— you want to ensure all visitors feel included.

Promotes a user-friendly experience.

When your website is easy to use and engage with, people will associate it with a pleasant experience. They'll keep coming back, knowing that your website is effectively serving their needs. 

Minimizes loss of website visitors.

Building off the previous point, if your website is hard to use and otherwise inaccessible you'll likely see a decrease in online engagement. Less people will refer to your website and your bounce rate will only grow.

Improves search engine ranking.

A fully compliant and accessible website is also easier to read by search engines. This can in turn increase your search engine result page rankings and increase the number of visitors to your nonprofit's website!
The elements that contribute to your web accessibility and compliance are also catalysts to increased online engagement and fundraising. With more people accessing and interacting with your website, the stronger their relationship with your mission becomes and the easier it is to support your organization.

3. What are some quick ways you can increase your website's accessibility?
In order to determine if your own website is fully compliant and accessible, let's review some of the WCAG's core principles of accessible design:
Perceivable information and intuitive user interface

Operable UI (user interface) and navigation

Understandable information and UI

Robust content and reliable interpretation
As you're going through regular website updates and maintenance, it can be helpful to look to the above concepts. They'll likely relate to your own nonprofit website in unique ways, and everyone will have their own actions to take in order to increase their website's accessibility. 
However, there are a couple of quick actions that any website developer for a nonprofit organization can take if they want to increase accessibility. Learning from the WCAG core principles, your top priority should be improving user experience. Consider the following quick ways you can improve your nonprofit website's accessibility:
Make sure that all non-text content also comes with a text alternative

. This applies to graphics, images, videos, and audio components of your website.

Avoid sensory characteristics to relay important nonprofit content.

For instance, if a field on your donation form is required but only designated as such by the color of the text, usually red, that has the potential to be an accessibility issue for colorblind users. Make sure to also indicate any important content or instructions with text as well.

Don't use any graphics or videos with flashes and other bright lights.

This can cause problems for those who are seizure prone. If you really want to incorporate this type of content, make sure to include a clear warning.

Ensure that all page titles are clear and entry fields include the necessary instructions.

You want to make your nonprofit website as easy to use as possible for your supporters. They should know exactly when they land on your online donation page and should be able to fill out the giving form with ease. 

Design an intuitive and easily navigable menu.

This is a great place to organize all of your most popular landing pages so that users can quickly access the content that they are seeking. Splitting your main menu by audience type is a helpful way to organize your site content.

Incorporate key calls-to-action (CTA) throughout your website.

Make it easy for supporters to access the page they want by adding link or button CTAs directing to it. This is especially useful for your online donation form and event registration forms. 
While you likely already implement some (or all!) of the above components, this is a handy general checklist you can refer to. As your nonprofit organization and fundraising solution grows, make sure your website continues to follow the above tips as well as monitors its compliance.
---
For more in depth, large-scale, or technical updates, nonprofit tech consultants will often be your best bet. They can help with auditing your entire site, cleaning up your structure and code, and ensuring clean tab order all without eating up your team's time.
A fully ADA compliant and accessible nonprofit website is crucial if you want to increase your online fundraising and donor engagement efforts. From protecting you from legal liability to designing an overall stronger site, hopefully this guide provides a solid foundation for what you need to know to get started. Good luck!
https://www.fundraisingletters.org/wp-content/uploads/Cornershop-Creative-Fundraising-Letters-Understanding-Nonprofit-Web-Compliance-A-Quick-Guide_Feature.jpg
300
660
Jamie
https://www.fundraisingletters.org/wp-content/uploads/logo-Fundraising-Letters-by-NXUnite-300x85.png
Jamie
2020-10-13 18:33:28
2021-02-24 21:12:07
Understanding Nonprofit Web Compliance: A Quick Guide